From the Shelf
For Book Clubs: Uncomfortably Funny
It may be difficult for a concerned white person in the United States to put their arms around the African-American experience, to understand fully the anger and frustration behind Black Lives Matter. The Sellout (available in paperback from Picador), Paul Beatty's novel of a black Los Angeles slave owner, weed and watermelon farmer and segregationist--which won the 2015 National Book Critics Circle Fiction Award and, this week, the 2016 Man Booker Fiction Prize--might help. Beatty's satire peels away the masks of both black and white stereotypes.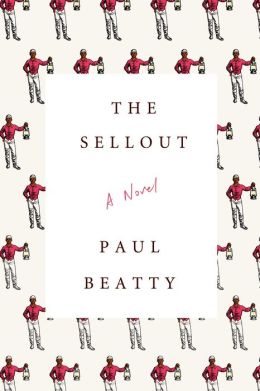 The Sellout is funny--very funny. As Dwight Garner said in his New York Times review: "The first 100 pages of his new novel... are the most caustic and the most badass first 100 pages of an American novel I've read in at least a decade." As our review put it: "The Sellout is a knock-out punch to everything all races smugly accept as our appropriate roles in a diverse world." Nobody gets away unscathed--Tiger Woods, Clarence Thomas, Rosa Parks, even Dave Eggers get their comeuppance.
But The Sellout's funny is an uncomfortable funny, especially for a book club group balancing the pleasure of laugh-out-loud lines with the tension, anger, guilt and bigotry that run beneath the surface of race relations in the United States. Could anybody but a relatively established black writer get away with the heavy racial humor in The Sellout? Does its somewhat complicated plot get in the way, or merely expand Beatty's platform for humor? Does Beatty's caricature of liberal blacks hit the mark? Although he pokes fun at racial stereotypes, they are stereotypes for a reason--do Beatty's comic wisecracks cut them down to size? And finally, can the humor of The Sellout help ease the United States' heightened racial unease and line-in-the-sand sort of ideological and sociological stand-off? Plenty to think about and discuss in this groundbreaking novel. – Bruce Jacobs, founding partner, Watermark Books & Cafe, Wichita, Kan.



In this Issue...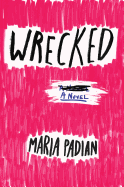 Maria Padian's valuable, riveting novel (for male and female high school and college students alike) examines the anguish and complexity of a college rape case.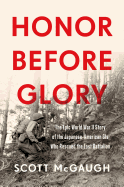 The little-known story of a segregated Japanese American unit that rescued a surrounded battalion during World War II.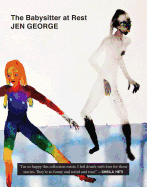 These creepily captivating short stories are an off-kilter ode to discontented women.
Review by Subjects:
Fiction ⋅ Biography & Memoir ⋅ History ⋅ Sports ⋅ Children's & Young Adult

From Elliott Bay Book Company
Upcoming Events
FOUR CHINESE POETS: LI LI, LO CH'ING, LV DE'AN, YAN LI with DARREN BYLER and HE QIAN
10/28/2016 - 7:00PM
In conjunction with a multi-faceted range of programs including art exhibits at VALA Arts Center in Redmond and the Ryan James Gallery in Kirkland, along with conferences and panels at Pacific Lutheran University and the Seattle Asian Art Museum (via the Gardner Center for Asian Art & Ideas), the latter October 28 - 30, we are delighted to help present this reading and discussion by four prominent Chinese poets - Li Li李笠, Lo Ch'ing 羅青, Lv De'an 吕德安, and Yan Li 严力, who...
FOUR CHINESE POETS: LI LI, LO CHI'NG, LV DE'AN, YAN LI with DARREN BYLER
10/28/2016 - 7:00PM
In conjunction with a multi-faceted range of programs including art exhibits at VALA Arts Center in Redmond and the Ryan James Gallery in Kirkland, along with conferences and panels at Pacific Lutheran University and the Seattle Asian Art Museum (via the Gardner Center for Asian Art & Ideas), the latter October 28 - 30, we are delighted to help present this reading and discussion by four prominent Chinese poets - Li Li李笠, Lo Chi'ng 羅青, Lv De'an 吕德安, and Yan Li 严力, who...
10/28/2016 - 7:00PM
Co-presented with KEXP. Lol Tolhurst was co-founder with Robert Smith, his childhood best friend, of the iconic post- punk/Goth band, the Cure. Cured: The Tale of Two Imaginary Boys (DaCapo Press) is the story of the origins and creation of the band, of Robert Smith's artistic evolution and of Lol Tolhurt's alcoholism, which eventually lead to his leaving the band. Now 25 years sober, he looks back on the Cure and its legacy. Following a multimedia presentation based on stories...
Book Candy
Trick or Bookish Treat!
NFL Halloween video of the season: For a press conference this week, pro football star Richard Sherman of the Seattle Seahawks "dresses as Harry Potter--and it's awesome," the Huffington Post reported.
---
Last call for Halloween: Mental Floss unearthed "six books supposedly dictated by ghosts that remain widely accessible today"; Bustle revealed "9 monsters from books based on true stories"; the Huffington Post explored "the spooky poem The Nightmare Before Christmas was based on"; and Brightly noted that "your little monsters, witches, ghosts, and goblins will go crazy for these fun printables and activities."

---

"Step into the Minotaur Manor. But beware, there are secrets hidden within its walls. Enter if you dare...."

---

"Silence can be either protest or consent, but most times it's fear." To celebrate Paul Beatty's award-winning novel, Bustle featured "7 The Sellout quotes that prove this book deserved the Man Booker Prize."

---

"These minimal, black + white illustrations are for book lovers," the Chronicle Books blog promised.

The Word Detective: Searching for the Meaning of It All at the Oxford English Dictionary
by John Simpson
John Simpson is the former chief editor of the Oxford English Dictionary, where he oversaw the creation of the online edition--the first major reference book to make the leap from print to a digital format. His memoir, The Word Detective: Searching for the Meaning of It All at the Oxford English Dictionary, tells the story of a man, an institution, and how they both changed over time.
Simpson's career with the iconic dictionary began in 1976, when lexicographers still documented words, meanings and expressions on index cards (called "slips"), which were later analyzed as part of the process of writing or revising a dictionary entry. As an assistant on the Supplement to the OED, his first task was to read a work on the semiotics of film--part of a project to bring modern words and ideas into what remained at heart a Victorian enterprise. By the time he retired as the dictionary's chief editor in 2013, the OED had been transformed from a monument of Victorian scholarship to a dynamic on-line database--a revolution in which Simpson played a critical role.
Much of The Word Detective centers on this change, as told through the lens of Simpson's personal experience. At first, we learn about the traditional skills required for a lexicographer--how to "read" a text as research for the dictionary: a laborious word-by-word process that bears little resemblance to reading for pleasure or instruction. How to write a definition, with all its related words and sub-meanings. How a new word earns a place in the dictionary. And, in the case of a charming extended history of the word "f*ck" and its first appearance in the OED Supplement, how new editorial policies develop to reflect a changing world.
The questions and skills under consideration changed when the OED staff took the initial steps into first digitizing the dictionary as a CD-ROM and later creating an online version. Some of the questions were technical, such as how to transfer data from print into new technologies. But other questions involved reconceptualizing both the format of the dictionary and how its editors worked with new resources. Suddenly in the vanguard of new ways of studying language, editors had to consider ways to radically restructure information, how to best utilize new search and display capacities, and how newly digitized databases opened the process of identifying early word uses. Caught up in the wave of change, Simpson never entirely loses track of the OED's roots and offers one example of why those databases can never completely replace the lexicographer's need to do archival research and verification. When his instincts tell him the quotation evidence for an early meaning of "pal" doesn't add up, he hits the road to track the example to its original source in an obscure document in a minor archive, where the word proved not to be "pal", but "Poll"--a nickname for Mary.
Some of the most engaging portions of the book stand outside the larger narrative. Brief essays on the history and meanings of individual words used in the text are highlighted by using in a different font. Some, like the essays on "serendipity," "apprenticeship" and "disability" reflect the arc of Simpson's personal story. Others--"on-line," "launch" and "project" for example--are drawn from the larger story of the dictionary's transformation. A few, most notably "selfie", represent a moment in time--though Simpson also uses "selfie" to illustrate the "truism known only to lexicographers" that all new words are at least 10 years older than we think they are. Many words seem to be chosen for their intrinsic interest rather than any larger thematic issue. In addition to describing the history of an individual word, each makes a different point about how words work, ways to think about language, or how a lexicographer works.
In less skillful hands, The Word Detective might have been a book for lexicographers and computer geeks. Instead, Simpson, writing with a wry and often self-deprecating wit and an obvious passion for his subject, tells a story that is at once deeply personal and part of the larger story of a fundamental shift in how we share information.
The Word Detective will inevitably invite comparisons to Simon Winchester's popular histories of the Oxford English Dictionary, The Professor and the Madman and The Meaning of Everything. In fact, Simpson's subtitle, Searching for the Meaning of It All at the Oxford English Dictionary, seems to demand such comparisons. At one level, The Word Detective continues the story where Winchester left off, telling the story of how the culture of the dictionary shifted from its Victorian roots to the digital age. But its heart is the unexpected excitement of historical dictionary work: finding lost information about a word, and consequently about the people and culture that used it.
Ultimately, The Word Detective is an education in a way of thinking about language that is unfamiliar to most of us. --Pamela Toler
Basic Books, $27.99, hardcover, 384p., 9780465060696
---

---
John Simpson: More to Language Than We Thought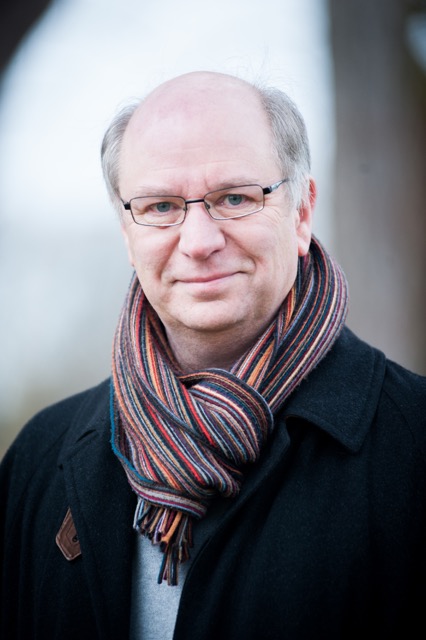 photo: www.bloomingphotography.co.uk
John Simpson is the former chief editor of the Oxford English Dictionary, where he helped take the dictionary online. He now writes and researches on lexical, literary and historical issues and is the co-editor of James Joyce Online Notes, a scholarly online forum for exploring historically accurate information about the real people and unfamiliar words in Joyce's novels. His memoir, The Word Detective: Searching for the Meaning of It All at the Oxford English Dictionary, was just published by Basic Books.
The title of your book is The Word Detective. Did you think of yourself as a word detective before writing the book or did that title come up as you worked?
We think of ourselves as word historians and word detectives because we're always trying to hunt down earlier and earlier references, which take you back to different eras. We try to work out what a particular word in a particular time means in a society.
When I announced that I was retiring from the OED in 2013, a couple of newspapers published retrospectives on my career and they both used "word detective" in their titles: "word detective retires after 37 years." That confirmed it for me.
The concept of being a detective is an intriguing one and it fits in with the sort of work we were doing, so I was quite happy with it as a title.
The book is part memoir, part history of the dictionary. It almost feels like you and the dictionary grow up together over the course of the book. Is that a fair statement?
That's true. The dictionary changes and I change. But I also had the feeling as I finished the book that these sorts of changes were more common at work between 1976 and the present day. Everyone--whether doing dictionary work or working at a head office or a bank--they'd all gone through these online changes. In writing about dictionaries I was also writing about the general experience of working over that period as well.
In the book you say that you ended up at the dictionary almost by chance.
I think most people end up as dictionary writers by chance. You don't wake up when you're five and think, "I must write dictionaries for the rest of my life." My wife saw an ad for the job and thought it would suit me while I decided what I wanted to do. And I found that I loved it. I can't imagine doing anything else at the end. You have the opportunity to follow up any aspect of language and history and culture and society all rolled together. When you finish one word you move on to another that is completely different proposition. It's not related thematically. It's just the next word in the alphabet.
You take what in some ways seems to be the contrarian position that people who claim they love words don't make good lexicographers.
It's people who love strange words because they're odd that I get particularly exercised about. As dictionary writers you have to work with words dispassionately, scientifically, objectively, because that's the job. You can't have favorites and you can't start liking things. You deal with them as scientific objects to some extent. It's an odd perspective but it's one that's been schooled into us, really.
What qualities do you think it does take to be good at the job?
You can say obvious things like you have to be good at analyzing language and you've got to have a clear, concise style. But really you've got to have a lot of physical and intellectual stamina. Especially intellectual stamina. You have to be able to see through a long work, a long project. You have to be able to work in quite lengthy detail on the history of individual words, and then not mind shifting to another word and another word and another word. There's always another word coming. You can't get depressed by the idea that you'll never get to the end of the work--and even if you get to the end of the work you have to go back to "A" again.
The main story line is the enormous task of changing the dictionary from print to what's become a dynamic online database.
We were really ahead of the time, which was an exciting thing. We were one of the first 500 websites on the Internet.
We had to work out how to do things that nowadays seem straightforward and everyone does. How the structure of the dictionary on computer differs from the structure of the dictionary on paper. How you're going to access the dictionary. In print you find your words and then go do something else. But online you've got other options. You can jump from word to word. You can look up a word or look up a theme or a look at things on a timeline. You're not just looking at words. You're looking at language. That was the exciting thing about it.
More recently we've given people the opportunity to not just create a word result list but to document representations of data so you can see on a graph, for example, that the entrance of Japanese words into English has an enormous hiccup between 1650 and 1850, when Japan was closed to the West so there was no need for communicating Japanese words into English. I think people can appreciate that much better from a picture or an animation than they can from just a list of words.
Now the dictionary makes language seem much more dynamic that it was in the old days, when it was very much a frozen and static subject of observation.
You say several times over the course of the book that you don't have a favorite word or words but you mention at one point that you do have a soft spot for words that came into the language during the early modern period.
It's the language of the early modern period rather than the words that come into it. It's that whole rather slow, connected language of Milton and as far as Johnson, for example, with his long extended periods. It's fun because you have to decode them as you're reading them. You can't read a 17th-century book in the way you read a 20th-century book. You have to read them more slowly and you have to look for connections. Some of the work I do for the dictionary is adding 16th- and 17th-century antedatings. You have to immerse yourself into the society of the time to understand even the sentences they're saying.
You retired but you're still involved in words.
I'm on the computer all the time: Working on words. I was writing the book. Working on various historical projects. The James Joyce website. They all involve historical research and writing up short articles. Unlike the OED, they aren't part of long-term research, but they all fit into a bigger picture. --Pamela Toler
---
Shelf vetted, publisher supported.

Book Reviews
Fiction

Dorothy, a Publishing Project, $16, paperback, 168p., 9780997366624
Pamela Dorman/Viking, $25, hardcover, 288p., 9780735221079
The Unnamed Press, $16, paperback, 246p., 9781939419965
Vintage, $16, paperback, 384p., 9781101969878
Morrow, $15.99, paperback, 368p., 9780062378774
Coach House Books, $17.95, paperback, 232p., 9781552453254
Biography & Memoir
Henry Holt, $32, hardcover, 432p., 9781627790345
History

Da Capo Press, $25.99, hardcover, 304p., 9780306824456
Beacon Press, $26.95, hardcover, 208p., 9780807033531
Sports
Simon & Schuster, $25, hardcover, 320p., 9781501137099
Children's & Young Adult

Algonquin, $17.95, hardcover, 368p., ages 14-up, 9781616206246
Candlewick, $24.99, hardcover, 192p., ages 10-adult, 9780763659387
Schwartz & Wade/Random House, $17.99, hardcover, 40p., ages 1-4, 9780553507706