From the Shelf
Go Norse
Norse mythology and history are having something of a cultural moment. From hit TV shows such as
Vikings
to the enormously successful video game
God of War
, Scandinavian culture has been finding a larger place in the popular imagination. In the literary world, Neil Gaiman's
Norse Mythology
(Norton, $15.95) offers an approachable introduction for children and adults to Thor, Odin, Loki and many more legendary characters who--believe it or not--are far more interesting than their counterparts from the Marvel movies. Gaiman's appreciation for Norse mythology has been apparent in many of his books, especially in the beloved
American Gods
(Morrow, $19.99), and here he turns his enthusiasm and storytelling abilities to the dark, weird myths that inspired characters like Mr. Wednesday.
In historical fiction, I would recommend Linnea Hartsuyker's
The Half-Drowned King
(Harper, $15.95), the first book in an ambitious trilogy about Viking-era Norway, and
Bernard Cornwell
's Saxon Chronicles (HarperCollins), an extensive series about the ninth-century Viking invasion of what would become England.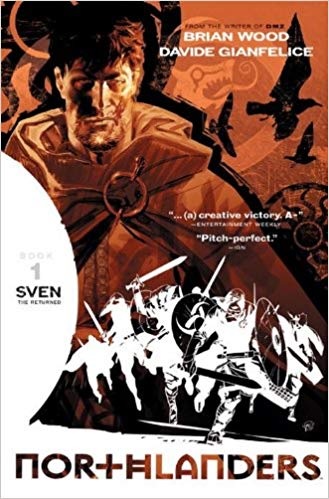 Some of the best historical fiction about the Norse can be found in comics and manga, from Brian Wood's epic
Northlanders
(Vertigo, $16.95) to Makoto Yukimura's
Vinland Saga
(Kodansha, $19.99).
Northlanders
is best approached as a series of short stories or novellas in settings as diverse as the Orkney Islands and Iceland, often focusing on the colonizing efforts of the far-travelling Norse. Illustrated by a number of personal favorites including Fiona Staples and Becky Cloonan,
Northlanders
is not to be missed.
Vinland Saga
is a lengthy, winding story eventually concerned with Viking efforts to settle in North America. Yukimura tells a well-researched story rich in visual detail. It's wonderful to see Norse culture celebrated in so many different mediums by so many talented authors, and to have simplistic depictions of Viking barbarians replaced by a more nuanced picture. --
Hank Stephenson
, bookseller, Flyleaf Books, Chapel Hill, N.C.

In this Issue...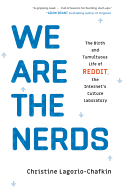 This illuminating history of Reddit reveals the website's significant influence on American culture, including the 2016 presidential election.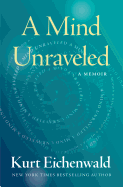 An esteemed journalist brings his considerable skills to the story of his battle with epilepsy.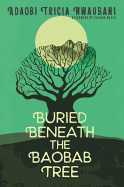 by Adaobi Tricia Nwaubani , Viviana Mazza
This fictional account of one girl's tragedy takes inspiration from interviews with Nigerian schoolgirls abducted by the extremist group Boko Haram in 2014.
Review by Subjects:
Fiction ⋅ Mystery & Thriller ⋅ Food & Wine ⋅ Biography & Memoir ⋅ Social Science ⋅ Religion ⋅ Psychology & Self-Help ⋅ Children's & Young Adult

Upcoming Events
10/16/2018 - 6:00PM
A welcome Seattle and Elliott Bay return is made this evening by John Freeman, who has now almost annually made Elliott Bay and then the Vancouver International Writers Festival a part of his (and our) October. He is here for this portion of the evening with a fabulous new edition of his journal, Freeman's (Grove Press), this one devoted to 'Power.' It is power in many forms, not always the most apparent or obvious, explored by the kind of variety John Freeman is known for with his editing -...
10/16/2018 - 7:00PM
Two esteemed masters of science-fiction writing get together for an evening of what should be spirited talk, as Seattle area-based writer Ted Chiang and Karen Joy Fowler, up from California but with many connections in the region, get together to talk. Between them they have garnered numerous Nebula, Hugo, Locus, and PEN/Faulkner Awards, and Karen Joy Fowler has been a National Book Award finalist for We Are All Completely Beside Ourselves. Ted Chiang has a new book of stories, Exhalation, due...
Speculations Sci-Fi & Fantasy Book Group
10/16/2018 - 6:30PM
This monthly, ongoing, Elliott Bay-hosted book group will be discussing Andy Weir's, Artemis (Beoadway Books) as the October selection. Learn More
Celebrating Thom Jones and Night Train with John Freeman and special guests
10/16/2018 - 7:30PM
This evening marks the publication day of a much-needed book, Night Train: New and Selected Stories (Little, Brown), work from three collections along with other writing by the late Thom Jones. A longtime resident of Olympia, he came with a fury onto the literary scene (in his forties) with his debut collection of stories, The Pugilist at Rest in 1993. A finalist for the National Book Award (story collections seldom are), it was followed by two other books of stories, Cold Snap and Sonny Liston...
Celebrating Thom Jones and Night Train
10/16/2018 - 7:30PM
This evening marks the publication day of a much-needed book, Night Train: New and Selected Stories (Little, Brown), work from three collections along with other writing by the late Thom Jones. A longtime resident of Olympia, he came with a fury onto the literary scene (in his forties) with his debut collection of stories, The Pugilist at Rest in 1993. A finalist for the National Book Award (story collections seldom are), it was followed by two other books of stories, Cold Snap and Sonny Liston...
10/17/2018 - 11:30AM
Our friends at PJ Library do these song & storytimes designed for tots, toddlers, and those looking after them at a few select bookstores in the area and visit as a regular feature of our Wednesday mornings. These are free and open to all and are usually thirty minutes of good fun, activity, and exploration of language, movement, and rhythm. Please join us in the Children's Section by the castle!
Ben Fountain with Maria Semple
10/18/2018 - 7:00PM
Ben Fountain has written one book of stories, Brief Encounters With Che Guevara, that received the PEN/Hemingway Award, and other honors. He has written one novel, Billy Lynn's Long Halftime Walk, which won the National Book Critics Circle Prize, the Los Angeles Times Book Prize, and was a finalist for the National Book Award. Important and lauded as those books have been, they may well be exceeded in import by his first nonfiction book, Beautiful Country, Burn Again: Democracy, Rebellion, and...
10/18/2018 - 7:00PM
Hugo House keeps things hopping in this first month of being reopened in its lovely new space, tonight offering an evening of craft talk by esteemed mystery novelist Elizabeth George. A writer of excellent books, and a supporter of vital literary organizations (Hedgebrook, notably among them), she will hold forth this evening on 'process.' This is something she knows well as the author of over twenty novels, most of them New York Times bestsellers, with The Punishment She Deserves being the...
10/18/2018 - 7:00PM
Twenty-eight years and fifty books after Walter Mosley introduced a Los Angeles janitor named Easy Rawlins into the annals of American writing - a twenty-eight year span that has seen Walter Mosley write brilliantly at every genre and type of book he has attempted - he makes this welcome Seattle return for what is yet another distinctly new direction, in his new novel, John Woman (Atlantic Monthly Press). "Mosley is at his commanding, comfort-zone-blasting best in this heady tale of a fugitive...
Kim Sagwa with Don Mee Choi and Bruce & Ju-Chan Fulton
10/19/2018 - 7:00PM
One of South Korea's most heralded younger writers (or writers of any age), Kim Sagwa makes this appearance here tonight for the newly translated edition of her 2008 novel, Mina (Two Lines). Also on hand this evening will be the book's Seattle-based translators, Bruce and Ju-Chan Fulton and Seoul-born Seattle poet and translator Don Mee Choi. "Mina gets to the core of Korean teenagers. Kim Sagwa's fragmented rhetoric stands for a generation that has no choice but to set imitation as its...
Saturday University with Amy Catlin-Jairazbhoy
10/20/2018 - 10:00AM
Saturday University SOUND TRAVELS: PERFORMING ARTS OF ASIA Fall Lecture Series. This morning the Saturday University morning fall series on performing arts of Asia continues with Amy Catlin-Jairazbhoy, adjunct professor of Ethnomusicology at UCLA. Her lecture topic, "Musical Arts of Rajasthan," dovetails nicely with the opening of the SAM exhibit, "Peacock in the Desert: The Royal Arts of Jodhpur." Presented by the GARDNER CENTER FOR ASIAN ART AND IDEAS, in partnership with the...
Children's Storytime - ages 2 and up
10/20/2018 - 11:00AM
Join us for this fun hour of readings from picture and storybooks! Go to the castle in the children's section… and the stories begin!
Civic Saturday with Eric Liu & Friends
10/20/2018 - 10:30AM
Civic Saturday is a civic analogue to church: a gathering of friends and strangers in a common place to nurture a spirit of shared purpose. It's about American civic religion—the creed of liberty, equality, and self-government that truly unites us. The programs include music, readings, and a civic sermon by Eric Liu, whose books include You're More Powerful Than You Think (PublicAffairs). We hosted the first Civic Saturday at Elliott Bay, and we'll be at today's gathering with a pop-up...
10/20/2018 - 7:00PM
A professor of philosophy at the University of Massachusetts, Lowell, and the author of a well-received book, American Philosophy: A Love Story, John Kaag takes his trade out for a walk of sorts, in his engaging new book, Hiking With Nietzsche: On Becoming Who You Are (Farrar, Straus & Giroux). "I never truly appreciated Friedrich Nietzsche. I might even have been a little afraid of him. But Hiking with Nietzsche changed that. John Kaag's luminous new book provides the reader with a deep...
Book Candy
The Benefits of a Home Filled with Books
"New study confirms growing up in a home filled with books is good for you," Mental Floss revealed.
---
Electric Lit featured an infographic exploring "who's the most Instagrammed writer of all time."
---
Pop quiz: Merriam-Webster's test featured "words to improve your Scrabble game."
---
Introducing your "literary book club dream team," via Quirk Books.
---
Buzzfeed pop quiz: "Are you more Winnie the Pooh or Paddington Bear?"
---
Author Glenn Skwerer picked his "top 10 real-life monsters in fiction" for the Guardian.

Zola's Elephant
by Randall de Seve , illust. by Pamela Zagarenski
In Randall de Sève and Pamela Zagarenski's first picture book collaboration, a nameless young girl imagines that her next-door neighbor lives in a stunning, vibrant world... with a pet elephant. Intricate and beautiful, Zola's Elephant displays a perfect balance of text and illustration while asking all readers to remember that what we think isn't necessarily what is true.
A young girl looks out the window at a family moving in next door. A mini, apple-cheeked Pierrot, the girl is dressed whimsically in harlequin-style red-and-white checked pants and a ruffled collar, holding a toy elephant wearing a red-and-white striped hat identical to the one atop her pigtails. The new next-door neighbors stand in front of a massive stack of boxes while, in the background, two movers struggle with a large crate marked "fragile."
"There's a new girl next door," the girl's narration begins. "Her name is Zola. I know because our mothers met this morning and decided we should be friends. But Zola already has a friend. I know because I saw the big box." One might wonder what kind of friend would arrive in a "big box" but the girl is certain she knows what it is: "You need a big box to move your elephant."
Peering through the window, the girl imagines an elephant curled up inside the enormous box. The acrylic-on-wood illustration depicts her imaginary world in the colors of a nebula, everything in shades of blue, green and gold. An otherworldly star chart overlays, with words like "magic" or "believe" in place of the more common words like "equator" or "elliptic."
The nebula-like palette continues onto the next spread as the Zola she imagines throws slices of toast to her elephant: "You also need to feed your elephant as soon as it arrives.... I know Zola's feeding her elephant now because I smell toast. Lots of toast." But the next page turn shows the reader what's really happening. The glorious colors are gone, replaced by doleful blues and grays. Zola sits alone, using the big box as a table for her toast and tea. With the next page turn, we are again back in the world of imagination. This back and forth continues as the reader is shown the glorious, fanciful scenes the narrator's mind creates as she comes up with excuses to not go meet Zola and her elephant. Hearing hammering, she imagines Zola and her elephant are building a clubhouse; in reality, an adult is assembling furniture while Zola holds her hands over her ears.
The narrator is sure Zola's clubhouse is "very cozy with pillows and curtains and a carpet of stars.... Perfect for sharing stories." And, in her imagination, it is: the clubhouse looks like a circus tent and Zola naps tucked into the elephant's trunk. "I like stories," she thinks, "and clubhouses and playing hide-and-seek and taking bubble baths with elephants. I really like elephants." And so, there are no more excuses--she simply must meet Zola and her elephant.
The narrator walks across the yard to Zola's front door and knocks. The girl is invited in, only to discover that there is no elephant--the box holds a couch. "Okay, so maybe Zola doesn't have an elephant. But do you know what she does have? A new friend."
Bestselling author Randall de Sève worked on Zola's Elephant for years, trying Zola many different ways, "including using alternating narrators." When "the versions got too tangled up," she "put the story away for a while" to clear her head. When she returned to Zola and her elephant, she simplified the story, creating the delightful and concise narrative Zola is now. Caldecott Honoree (Sleep Like a Tiger) Pamela Zagarenski's striking acrylic on wood illustrations work perfectly with the text, telling both the written story and the story in between. Of Zagarenski's illustrations, de Sève said, "I don't even know where to begin gushing: Perhaps at the vibrant colors and endless patterns on every page... the stark contrast between real... and imaginary... worlds, the timeless designs of costumes and architecture, the compositions that keep your eyes moving and searching and never growing tired... Or how brilliantly Pamela imagined this short but complex story."
And complex the illustrations most certainly are: visual themes travel from page to page; there are secondary and tertiary storylines in the illustrations and in the interwoven designs; and the endpapers expand upon de Sève's tale. "I always imagine endpapers as pictorial extensions of the story," Zagarenski said. "While I painted these pages I personally experienced the 2017 solar eclipse. It felt like a larger-than-life event." Zagarenski included the sun, the moon and the stars throughout the picture book to build on that event and as a "reminder" of "our constant and mysterious companions." In the endpapers, she painted the sun, the moon and the eclipse in the sky, "both day and night happening simultaneously."
Zola's Elephant's easy-to-read text gives many access points to young readers while the material itself poses grander questions for older readers to mull over. Zagarenski's illustrative interpretation of the text is as vibrant and intricate as the text itself, certain to draw in pre-readers and readers alike. A deceptively simple tale, Zola's Elephant has depth to consider and explore. --Siân Gaetano, children's and YA editor
Houghton Mifflin Harcourt, $17.99, hardcover, 40p., 9781328886293
---

---
Randall de Sève: Fascinated by the Stories We Tell Ourselves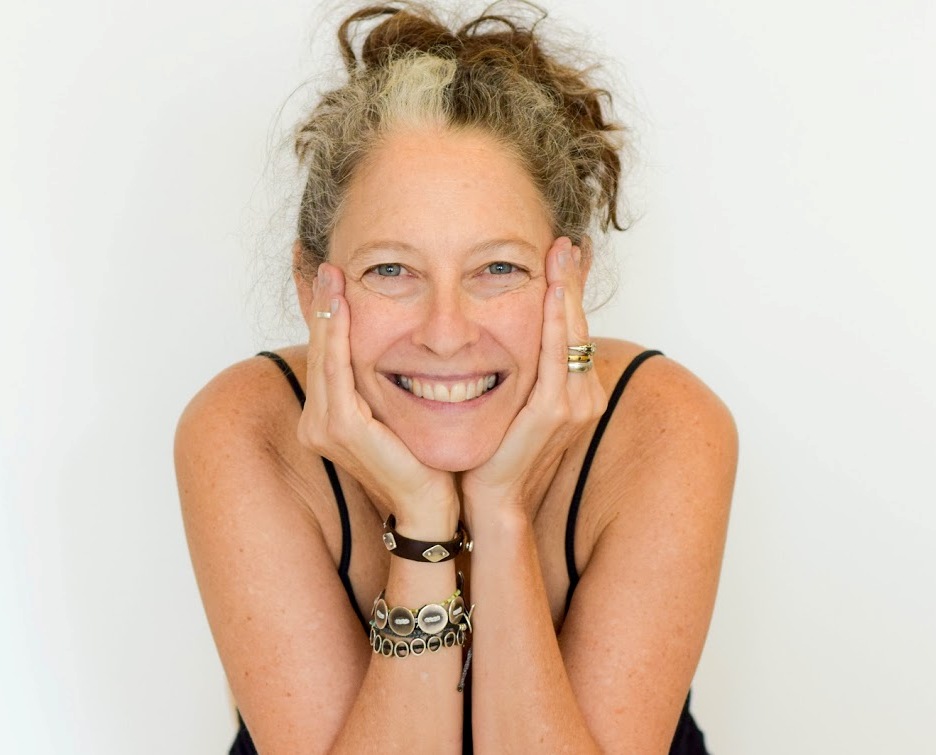 Randall de Sève is the author of the New York Times bestseller Toy Boat, as well as The Duchess of Whimsy, Mathilda and the Orange Balloon, Peanut and Fifi Have a Ball and A Fire Truck Named Red. Randall fully admits that she's gone through life thinking that every big box really could contain an elephant. It's her runaway imagination that has also inspired her teaching of young children, both at the Blue School and Saint Ann's School in New York City, where she lives with her husband and two daughters. Visit her at randalldeseve.com. Her newest book for young readers is Zola's Elephant (HMH Books for Young Readers).
What was your inspiration for this story?
For as long as I can recall, I've been fascinated by the idea that the stories we tell ourselves are not always the truth--yet too often we give these stories the power to dictate important decisions and impact our experiences and relationships.
This is where my head was when our new neighbors moved in. They came with a daughter [who's] my daughter's age, and lots of boxes. There was some excitement from the parents (despite the girls' mutual wariness) about a potential friendship; there was also some excitement from my husband: seeing a large box being lugged inside, he joked, "R--'s tiger is here!"
And I dashed upstairs to begin Zola's Elephant.
Why an elephant, specifically?
Good question--especially since the story came from a comment about a tiger! The first drafts were about a girl and her tiger. And (cool side note) I had Pamela's Sleep Like a Tiger in mind in those early days, way before selling this story to HMH or its editor, Ann Rider, showing it, unbeknownst to me, to Pamela. Ultimately, however, I felt like the story needed something bigger than a tiger-sized box to grab its narrator's attention and get her going. An elephant-sized crate was just the thing!
Did you have contact with Pamela or give any specific instructions for the illustrations?
When I write, I always have pictures in mind and describe them in my first drafts. This allows me to pace a story, to avoid overwriting and to leave room for the art to help tell it. Before a story goes to its illustrator, however, all but the narrative art notes come out, so that the artist can bring their own vision to the piece. I had no direct contact with Pamela through this process (standard practice) and only sent a few queries through our editor. We've still never met, but we exchanged love letters over the holidays when our jobs were done.
How did you feel upon seeing Pamela's illustrations for the first time?
At first, I was speechless, in awe. The art is so full of whimsy and delight, with new surprises and treasures on every page. I'm guessing children will be over the moon in love with it.
Who are you hoping will read this book? What do you want readers to come away with from Zola's Elephant?
I've written and spoken about how picture books can be enjoyed on so many levels, by people of all ages. I hope Zola's Elephant entertains children and their adults; I also hope it gently nudges readers to rethink some of their own fixed narratives.
Are you working on anything at the moment?
I'm wrestling with the idea of forgiveness... and Vikings. --Siân Gaetano
---
Pamela Zagarenski: Drawn to Paint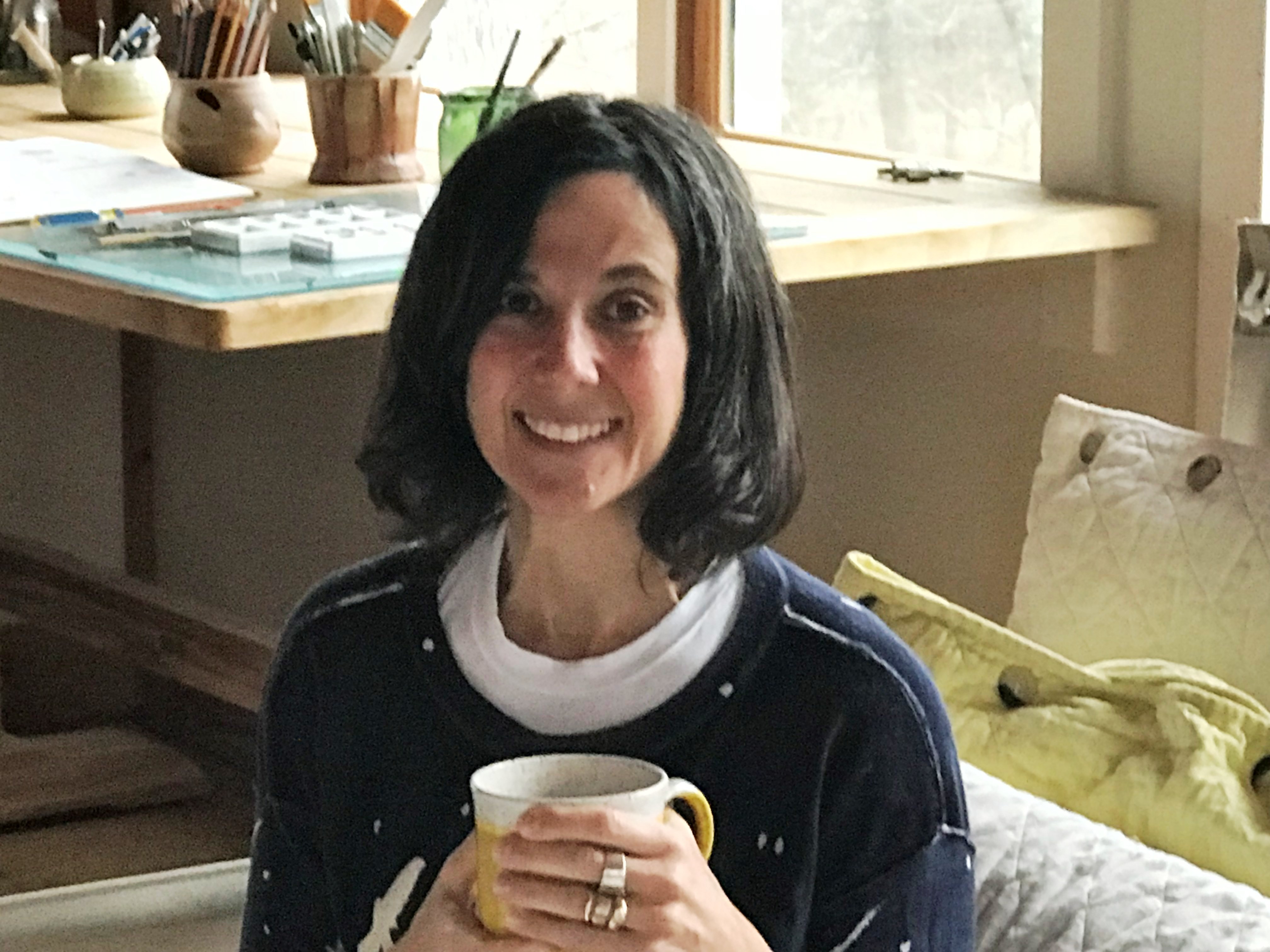 Pamela Zagarenski is the winner of two Caldecott Honors. The books she has illustrated have also been Booklist Editor's Choices and winners of Bank Street's Claudia Lewis Award, and have been translated into many languages. As well as illustrating picture books, she creates paintings and has a gift card line. Her newest book for young readers is Zola's Elephant (HMH Books for Young Readers). She lives in Connecticut. Visit her on Instagram and Twitter.
What materials did you use for the illustrations in this book? Are these the materials you regularly use? What draws you to them for your work?
My illustrations are created with acrylic paint on wood and yes, these are materials I regularly use. I love painting. It is hard to say why I am drawn to paint. I have loved it as far back as I can remember. It is much like being drawn to a particular kind of landscape that feels like home: like the old stone walls, red cedars, oak trees and the Atlantic Ocean, paint just feels like part of me.
You have illustrated a number of books written by others, as well as your own written works--do you prefer one over the other? Do the processes differ?
I love words. It has always been impossible for me to hear a word without "seeing" it. When I receive a story from an author I read it over and over, as if I am memorizing it. The words talk to me and, as my contribution to the conversation, I give the words color and a visual life. The story and I need each other equally for the conversation. Whether it is words that I have written or the words from another, it does not really matter. I imagine that the white space between the words reveals imaginary and secret things--with illustrations, I fill in those blanks. When I both write and illustrate, the only real difference is that the conversation between words and images happens simultaneously. The words can tell the pictures what they want to show and then the pictures tell the words what they want to say. Back and forth, like a pendulum, I swing from pen to paint as the book takes shape.
How did you make the choices you did in order to have Zola's Elephant World be different from Zola's Real World?
I felt Zola's real world was new, lonely and frightening. So, I wanted it to feel blue, empty, angular and a bit harsh in contrast with the narrator's soft and colorful life imagined of Zola. The life of one having an elephant as a best friend.
You also create beautifully illustrated greeting cards. Is the process of creation very different from card to book? Is there one you prefer?
A card is simply a two-page book. I admit picture books will always be my favorite and always have been--they are just a more complicated puzzle and I like the challenge. But words and images... and images and words... I am the grateful, humbled puppet of both worlds. --Siân Gaetano
---
Shelf vetted, publisher supported.

Book Reviews
Fiction
Harper, $29.99, hardcover, 480p., 9780062684561
Dutton, $26, hardcover, 352p., 9781524743444
Farrar, Straus and Giroux, $25, hardcover, 256p., 9780374192020
Europa Editions, $17, paperback, 384p., 9781609454708
Mystery & Thriller
Quirk Books, $24.99, hardcover, 336p., 9781683690122
Food & Wine
Grand Central Life & Style, $32, hardcover, 288p., 9781538714669
Biography & Memoir

Ballantine, $28, hardcover, 416p., 9780399593628
Social Science

Hachette Books, $28, hardcover, 512p., 9780316435376
Religion
Riverhead Books, $20, hardcover, 208p., 9780525537441
Psychology & Self-Help
Bloomsbury, $26, hardcover, 272p., 9781632868541
Children's & Young Adult

Katherine Tegen/HarperCollins, $17.99, hardcover, 336p., ages 13-up, 9780062696724
NYRB Kids, $14.99, paperback, 400p., ages 7-10, 9781681372884
--- SPECIAL ADVERTORIAL OFFERINGS ---