From the Shelf
Funny in Real Life: Nonfiction for Laughs
Laughter, they say, is the best medicine. Cliché or not, up your humor intake with the following funny books.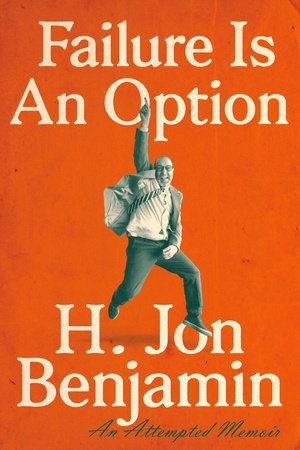 "I've been waiting all my life to ruin this moment," writes voice actor and comedian H. Jon Benjamin in Failure Is an Option: An Attempted Memoir (Dutton, $16). In it, Benjamin catalogues a life of various failures: failed jobs. Failed romantic pursuits. Failed parenting moments. Failed bodily control in one particularly disastrous incident involving a rental car. It's a veritable variety show of Benjamin's signature dry humor, with hybrid forms like e-mails and sex diagrams studding the mix.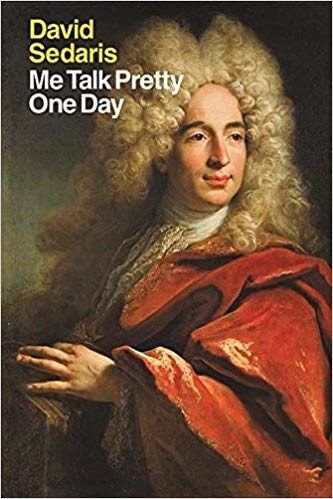 The legendary David Sedaris has published decades of bestsellers--but some of his finest, most bittersweet work can be found in Me Talk Pretty One Day (Back Bay, $16.99). Especially memorable is "The Youth in Asia," wherein Sedaris wrestles with several deaths in the family: his pets', and eventually, his mother's. For instance, when he must euthanize a beloved cat, Sedaris has her cremated. But: "She'd never expressed any great interest in the outdoors, so I scattered her remains on the carpet and then vacuumed her back up." Expect laughter to mingle with tears.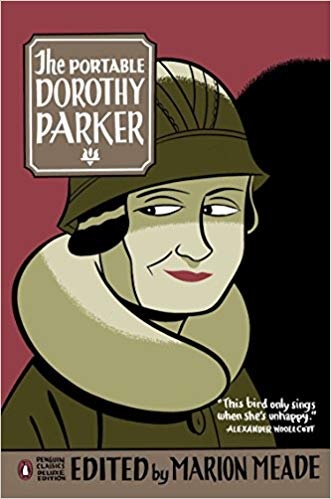 Then settle into The Portable Dorothy Parker (Penguin Books, $24), edited by Marion Meade. It features the original collection of Parker's work as arranged by Parker herself, along with additional writings, interviews and letters. Parker's talents spanned genres: poetry, short stories, novellas, screenplays, reviews. And critics have long lauded her work; she co-wrote the Oscar-nominated 1937 screenplay of the oft-remade A Star Is Born. Her reputation as one of the smartest, saltiest comedic writers in United States history is well-deserved. A classic Parker quip: "The two most beautiful words in the English language are 'check enclosed.' "
In this Issue...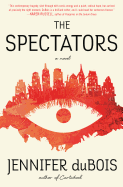 With beautifully wistful prose and keen generational insight, The Spectators is both a character study and a panorama of collective, urban identity.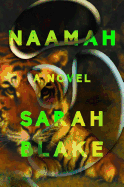 Naamah is a mystical reimagining of the story of Noah and the great flood, featuring lyrical prose and a strong female protagonist.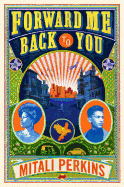 In her young adult novel Forward Me Back to You, Mitali Perkinsgracefully tackles two teens navigating trauma, identity and first love.
Review by Subjects:
Fiction ⋅ Mystery & Thriller ⋅ Science Fiction & Fantasy ⋅ Biography & Memoir ⋅ Children's & Young Adult

Upcoming Events
Liska Jacobs with Kristi Coulter
01/18/2020 - 7:00PM
The author of a well-received fiction debut, Catalina, Liska Jacobs visits with The Worst Kind of Want (MCD/Farrar, Straus & Giroux), an open-eyed novel of a woman who goes from the U.S. to Italy on a family mission only to find herself drawn into an entirely different world from the one she'd been living in. "The Worst Kind of Want transported me to Rome and blessed me with an addictive, sexy story about a woman who tries to turn her pain into a fleeting, forgettable recklessness. If only...
Children's Storytime - ages 2 and up
01/18/2020 - 11:00AM
Join us for this fun hour of readings from picture and storybooks... Go to the castle in the children's section...and the stories begin!
Saturday University with David Bachman
01/18/2020 - 10:00AM
Saturday University Silk Roads Past and Present Lecture Series. This morning the Saturday University morning autumn series on the Silk Road in Asia concludes with David Bachman, professor of political science at the University of Washington and former chair of the China Study Program there. He will present a lecture on "The 21st Century Silk Road: China's Belt and Road Initiative." Presented by the GARDNER CENTER FOR ASIAN ART AND IDEAS, in partnership with the UNIVERSITY OF...
Authors' Guild Meeting with Kathleen Ortiz & Lish McBride
01/19/2020 - 3:00PM
Come learn about writing for young adults, from a literary agent and an author, with the Authors Guild. Kathleen Ortiz, a Seattle-based agent with New Leaf Literary in New York, and Lish McBride, a well-published YA writer, tell us about this rapidly expanding publishing market. All are welcome, Authors Guild members or not. Kathleen Ortiz is a literary agent who has over a decade of experience in the industry, both as an agent and licensing expert. She focuses on a diverse list of picture...
From Struggle to Survival: Creating Beauty Out of Tragedy
01/20/2020 - 7:00PM
A Winter's Evening of Music, Poetry and Storytelling with Claudia Castro Luna, Michelle Dodson, Hilary Field, Merna Ann Hecht & Lena Khalaf Tuffaha. Weaving together original music and poetry, classical guitarist and composer Hilary Field with poets Claudia Castro Luna and Lena Khalaf Tuffaha will share poems about struggle and their means to survive. Storyteller Merna Ann Hecht and cellist Michelle Dodson will offer stories and music with the theme of bringing hope forth in dark times...
01/21/2020 - 7:00PM
Following journalist and novelist Fatima Bhutto, here a few months ago with her book on pop culture in India, the United Emirates, Turkey, and Latin America, is William Wheeler, with another in Columbia Global Reports' books of long-form journalism. He visits with what is his first book, State of War: MS-13 and El Salvador's World of Violence. "In State of War, his gripping, electrifying study of the brutal Salvadoran gang culture, William Wheeler dramatizes with almost painful immediacy a...
Speculations Sci-Fi & Fantasy Book Group
01/21/2020 - 6:30PM
This month's selection for reading and discussion is Ada Hoffman's novel, The Outside (Angry Robot). Learn More
Book Candy
Game of Thrones Theme Tours

Great Reads
Rediscover: Jonathan Baumbach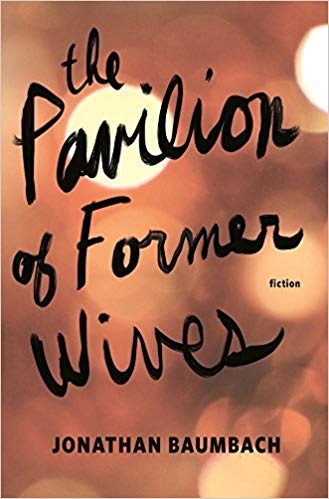 Experimental novelist, academic and film critic Jonathan Baumbach died on March 28 at age 85. He earned a Ph.D. in English from Stanford University in 1961 and went on to direct Brooklyn College's M.F.A fiction program between 1975 and 2001, among other positions. Baumbach published his first novel, A Man to Conjure With, in 1965. When his third novel was rejected 32 times, Baumbach and Peter Spielberg founded Fiction Collective, an author-run, nonprofit publisher of avant garde work. Its successor organization, Fiction Collective 2, still releases an average of six books a year.

Baumbach's novels, known for their nonlinearity and dreamlike imagery, include Reruns (1974), Dreams of Molly (2011), Babble (1976), Chez Charlotte and Emily (1980), Separate Hours (1990), What Comes Next (1968), Seven Wives: A Romance (1994) and The Life and Times of Major Fiction (2007). His son, filmmaker Noah Baumbach, wrote and directed The Squid and the Whale (2005), which was based in part on his own life, with his father as the inspiration for the character played by Jeff Daniels. Jonathan Baumbach's most recent book is a short story collection called The Pavilion of Former Wives (Dzanc, $16.95, 9781941088616).

The Writer's Life
Kwame Onwuachi: Shifting Between Worlds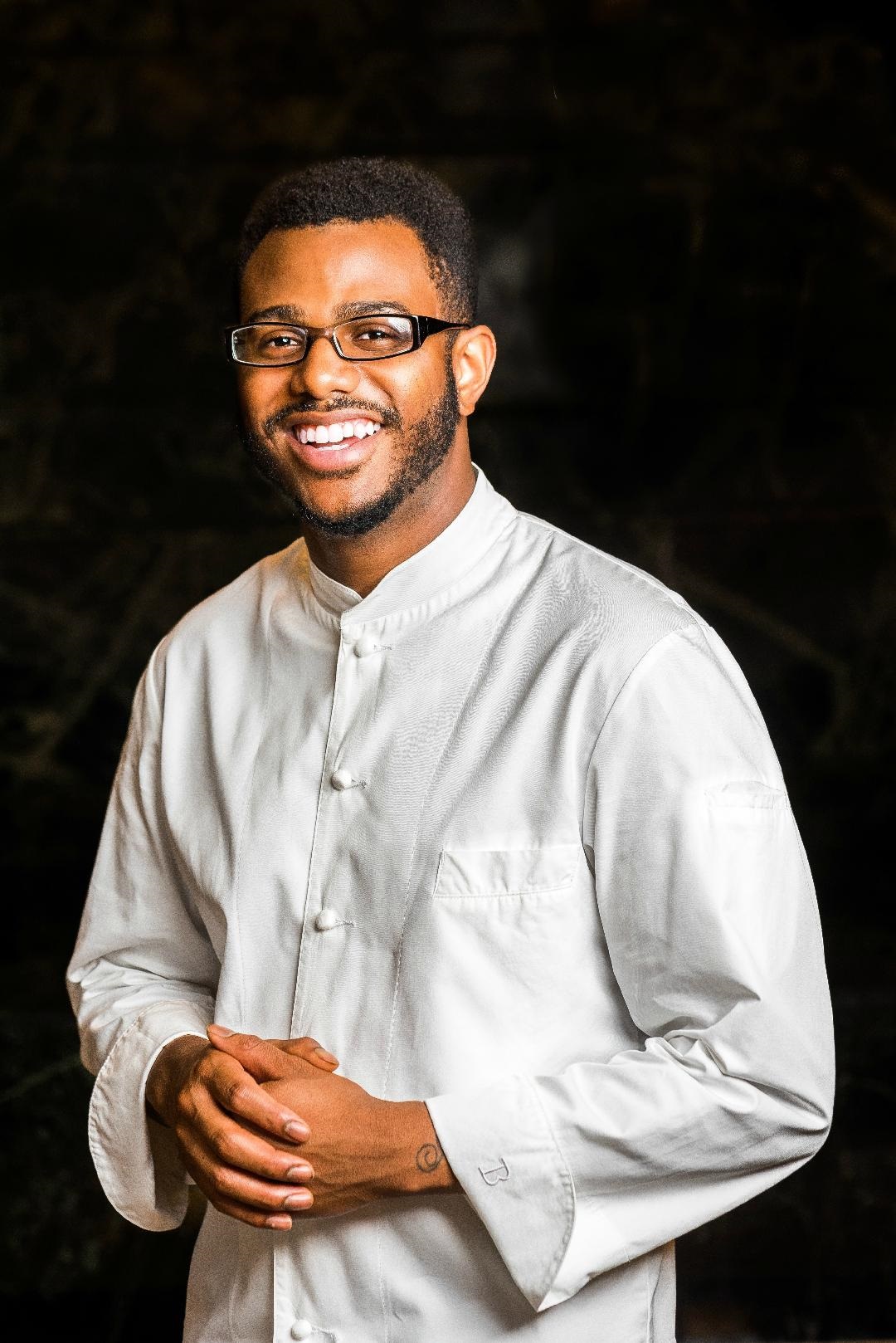 photo: Rey Lopez
In Notes from a Young Black Chef: A Memoir (Knopf, reviewed below), chef Kwame Onwuachi (with co-writer Joshua David Stein) explores his experiences growing up at the intersection of multiple cultures and cuisines. Onwuachi traces his life both in and out of the kitchen, reflecting on a youth that crossed continents--and, for a time, the law--and a career that by his late 20s already included competing on Top Chef, cooking in prestigious kitchens and opening several restaurants of his own.
What did an average day look like for you, balancing writing with being a chef?
That's a loaded question! I tried to find time before service, in between service--literally any free time, I had to either get something down on paper or talk to my co-writer. There was always something, every single chance I got.
A theme throughout Notes from a Young Black Chef is how often you have had to shift between different versions of yourself. How has this ability shaped you as a chef?
You have to slide between different worlds as a chef. You have different people you have to inspire and influence. You have your diners: you have to go out there and talk to them a certain way and inspire them. And you have your staff, who you have to continue to inspire as well. Shifting through the worlds never really stopped. Only the bigger you get, the worlds you have to shift between get farther and farther away from each other.
One of the images I was struck by from your time living in Nigeria was the RV that your granddad took on a road trip across the U.S., then brought back to Nigeria with him. The idea of home being moveable and changing is so compelling. What gives you a sense of being home now?
I would say that doing what I love to do gives me a sense of being home. I've traveled all around the country doing pop-ups, across oceans cooking--whether it's Hong Kong or Mumbai or L.A. or San Francisco. One thing that keeps me grounded is being in the kitchen. It gives me the sense of home. It reminds me of my childhood. I found so much security standing next to my mother in the kitchen for so long that that has never left me.
There have been strong women in your life who have supported their families through their cooking. I've also read about your admiration for the incredible restaurateur Leah Chase. Can you say a little about that, and about your own work supporting women and people of color in your industry?
I feel it's important for me as a minority to support other minorities. The thing about Leah Chase is that she's not only an African American chef who's had her own restaurant for so long (and during the Civil Rights movement), but she's also acted as a backbone for our societal growth as a people.
Having a restaurant now as a person of color is difficult; I can only imagine how it was in that time period. And to continue to cook amazing food on top of that and to continue to be in the restaurant as much as she has is really inspiring. It's the way that my mom inspires me when I think I have it tough and I look back to her. She was a single mom supporting two children in New York City. That's crazy, you know? I get a lot of inspiration through people persevering. It makes me keep going as well.
Your first job as a teenager was at a McDonald's. Later, referring to when you were selling drugs in college, you write, "We had everything we wanted, could buy anything we wanted, could eat at Burger King three times a day every day." Out of curiosity, when was the last time you had McDonald's or Burger King?
Ha! I ate at Wendy's like three weeks ago. I was having a bad day; I forget what happened. On a bad day, usually I will eat either chicken wings and pork fried rice or some sort of fast food. So I had Wendy's. I had a Baconator or something like that, with chicken nuggets and French fries. It was great. But I haven't eaten at Burger King in years.
A couple quick ones. First, if you were to make a "Nutcracker" (the cheap Hawaiian Punch cocktail you briefly sold to fellow college students) now, what would be in it?
Oh, man! I always think about putting it on the menu! I think it would be in the same vein. I'd call it a Nutcracker, but there would be elderflower juice in there, or elderflower cordial. Mangosteen juice. All my favorite fruit flavors now, or fruit-forward flavors now, with a Bacardi eight-year rum. Shaken, with lots of ice.
What was the last cookbook you cooked from?
I think the last cookbook I cooked from was The Art of Fermentation--not actually a "recipe" recipe.
What are you having for dinner tonight?
I probably won't have anything. I'm working the line, so I'll be tasting through the line making sure the food tastes good. So that will be my dinner! --Katie Weed
Book Reviews
Fiction

Random House, $27, hardcover, 352p., 9780812995886
Little, Brown, $28, hardcover, 384p., 9780316437165
Turtle Point Press, $17, paperback, 288p., 9781885983688
Hanover Square Press, $25.99, hardcover, 256p., 9781335652904
Penguin Books, $16, paperback, 416p., 9780735222335
Harper, $25.99, hardcover, 256p., 9780062856562
Viking, $27, hardcover, 384p., 9780735223042
Mystery & Thriller
Pegasus, $25.95, hardcover, 368p., 9781643130217
Science Fiction & Fantasy

Riverhead, $26, hardcover, 304p., 9780525536338
Biography & Memoir
Knopf, $26, hardcover, 288p., 9781524732622
Children's & Young Adult

Farrar, Straus and Giroux, $17.99, hardcover, 432p., ages 14-up, 9780374304928
Tate Publishing, $16.99, hardcover, 32p., ages 5-7, 9781849765657
Tundra Books, $12.99, hardcover, 176p., ages 7-10, 9780735262591

Hunter Killer:
A Pike Logan Novel
by Brad Taylor
isbn:

9780062886026


William Morrow
January 7, 2020



an exclusive interview with
bestselling author Brad Taylor

In HUNTER KILLER, Pike Logan is headed to a very dangerous part of the world called the Triple Frontier—the three-way border region where Argentina, Brazil, and Paraguay meet. The Taskforce books are certainly character driven but, how important is setting to your novels?
"I'm a reader first, and one of the reasons I read is to escape my world and enter another one. Because of that, I try to capture the settings in my novels away from what the usual reader knows. Give them a bit of an escape, as it were. Every culture is different, and every country is different, and exploring that on the page is something I strive to do. To that end, if I can get there, I most certainly do. Sometimes that's not possible, of course. For instance, I didn't travel to North Korea or Syria for portions of Daughter of War, but I did travel everywhere else in the novel."

ALSO FEATURED ON THE
the big THRILL…
| | | | | |
| --- | --- | --- | --- | --- |
| | | | | |
GOOD GIRLS LIE by J. T. ELLISON: In GOOD GIRLS LIE, bestselling author J. T. Ellison takes readers down the hallowed halls of The Goode School and shows us that even the privileged aren't safe from expert liars. Not everything is as it seems. Find out more here.
BOXING THE OCTOPUS by TIM MALEENY: Real life can get in the way of writing—and for author Tim Maleeny, "real life" created an almost 11-year gap between his last Cape Weathers novel, Greasing the Piñata, and his latest series installment, BOXING THE OCTOPUS. Read more at The Big Thrill.
LET JUSTICE DESCEND by LISA BLACK: Three days before a key election, US Senator Diane Cragin is electrocuted on her own doorstep—a shocking twist in an already brutal political race. More on Lisa Black's LET JUSTICE DESCEND in this The Big Thrill author interview. Find out more here.
DEEP STATE by CHRIS HAUTY: Chris Hauty's debut thriller, DEEP STATE, takes readers on an unnerving ride through a plot to overthrow the government and the fight to protect American democracy. Visit The Big Thrill for more.
THE LAST SISTER by KENDRA ELLIOT: Until Kendra Elliot immersed herself in Diana Gabaldon's work, she really didn't see herself as a writer. But after reading Gabaldon's books over and over she noticed how satisfied she felt—and that ignited her career. THE LAST SISTER is her 16th novel. Read more here.