From the Shelf
Read On, Romance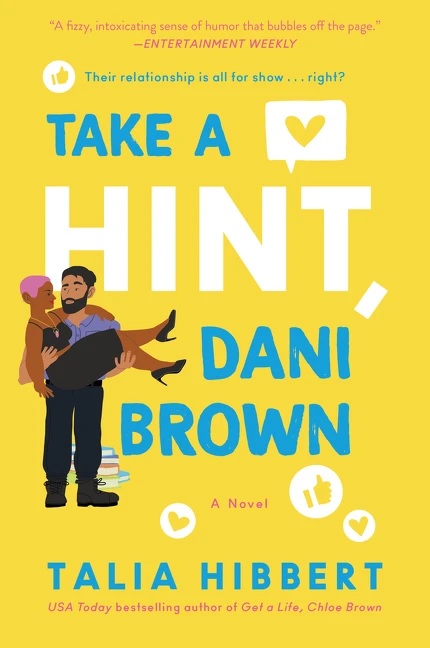 I recently read a trilogy out of order by accident: I picked up Take a Hint, Dani Brown by Talia Hibbert (Avon, $15.99 each) on a whim and fell head over heels in love with Hibbert's writing style and character development. On learning that there was a prequel (Get a Life, Chloe Brown) and a sequel (Act Your Age, Eve Brown), I practically squealed with delight. All three of the Brown sisters books are full of insight and wit, with diverse sets of characters who reflect candidly and openly on matters of mental health, neurodivergence, ability and love--with some steamy romance scenes to boot. (Added bonus for audiophiles: all three boast excellent narration in the audiobook format.)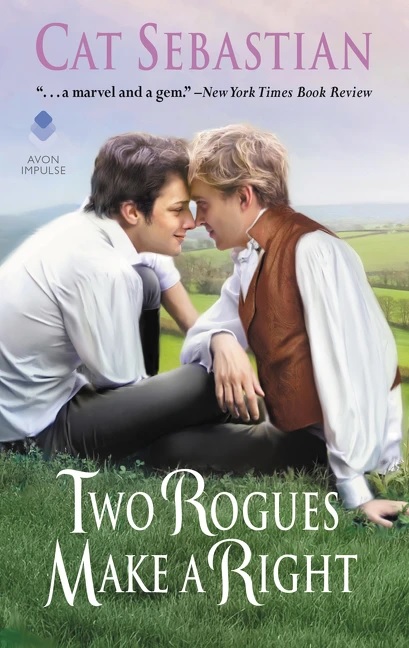 Because I came to Hibbert's trilogy later than many avid romance readers, I was able to binge-read all three back-to-back. The same was not true of Cat Sebastian's Sedgwick series. I waited with great impatience for the 2020 release of Two Rogues Make a Right, which followed It Takes Two to Tumble and A Gentleman Never Keeps Score (Avon, $5.99 each). This trilogy also follows a trio of siblings, as Sebastian spins stories of each brother's search for love and belonging in a historical era not known for its kindness toward queer men.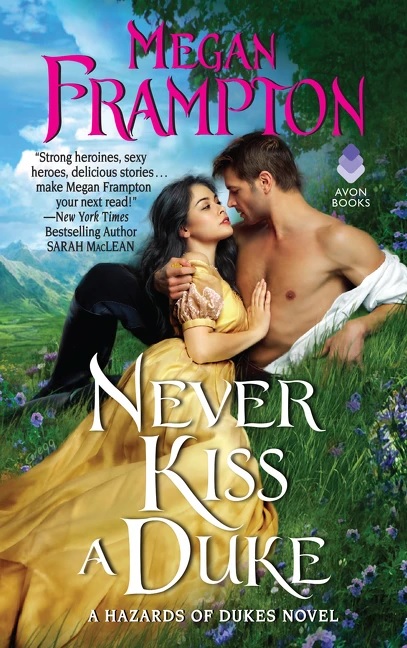 Megan Frampton's Hazards of Dukes novels put me back in the same position: I've read the first three of the series and am now eagerly awaiting the fourth (due out this fall). As much as I hate the waiting, I'm confident it will be worth it. Never Kiss a Duke; Tall, Duke, and Dangerous; and A Wicked Bargain for the Duke (Avon, $7.99 each) have all proven to be delightful historical romance reads for those looking for something to pick up while, say, keenly anticipating the next season of Netflix's Bridgerton. --Kerry McHugh, blogger at Entomology of a Bookworm

In this Issue...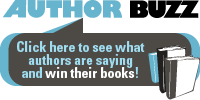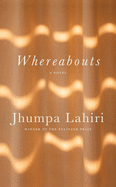 A Pulitzer Prize-winning author's shimmering jewel of a novel features an enigmatic female academic and her intriguing relationship to her Italian hometown and its inhabitants.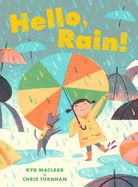 In a fresh, holistic take on a classic theme, a child and their dog explore the sounds, mysteries and beauty unleashed before, during and after a rainstorm.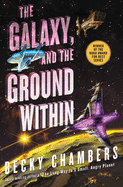 Five marooned aliens search for commonality and understanding in the exceptional fourth book in Becky Chambers's Wayfarers series.
Review by Subjects:
Fiction ⋅ Mystery & Thriller ⋅ Science Fiction & Fantasy ⋅ Business & Economics ⋅ Parenting & Family ⋅ Humor ⋅ Art & Photography ⋅ Children's & Young Adult

Upcoming Events
05/12/2021 - 7:30PM
Anna Sale, the host of WNYC's hugely popular 'Death, Sex, & Money' podcast, takes what it is to have those soul-baring and soul-bearing conversations and puts it into her much-anticipated first book, Let's Talk About Hard Things (Simon & Schuster). For this virtual Town Hall visit, which may not be all hard conversation, she'll be joined by Seattle's Angela Garbes, author of the bestselling Like a Mother, and formerly a writer at The Stranger, and even more formerly, a bookseller at...
Lyanda Lynn Haupt with David George Haskell
05/12/2021 - 6:00PM
Seattle's Lyanda Lynn Haupt, author of an extraordinary, award-winning sequence of books mostly centering on birds - Mozart's Starling, The Urban Bestiary, Crow Planet, Pilgrim on the Great Bird Continent, and Rare Encounters with Ordinary Birds - ventures not too far from the nest for her strikingly beautiful, provocative new book, Rooted: Life at the Crossroads of Science, Nature, and Spirit (Little, Brown Spark). Here, inter- and intra- connections among and between various life forms...
05/12/2021 - 6:00PM
One of these days, Seattle will properly get to welcome, in-person, one of this country's most celebrated writers, who moved here seemingly as all was shutting down for the pandemic. That celebrated writer is Jewell Parker Rhodes, award-winning author of numerous novels and books for younger readers and adults, a memoir, two books about writing and getting published for Black writers, and the Founding Artistic Director and Piper Endowed Chair at the Virginia G. Piper Center for Creative Writing...
05/13/2021 - 12:00PM
The Frye Museum's Creative Aging Series today features this midday appearance by MacArthur Foundation fellowship recipient Anne Basting, known for her pioneering work with older people, and author of Creative Care: A Revolutionary Approach to Dementia and Elder Care (Harper One). "Creative Care is a love letter to aging. Not a prescription filled with should, it's a beautifully rendered invitation to be curious and flexible, meeting elders wherever they happen to be in the moment and making...
Callum Angus with Hazel Jane Plante & Corinne Manning
05/13/2021 - 6:30PM
Tonight we'll also join Massy Arts Society and Montreal based Metonymy Press in presenting Portland author Callum Angus in conversation with Hazel Jane Plante and Corinne Manning. Callum Angus will be celebrating the publication of A Natural History of Transition (Metonymy Press), a collection of short stories that disrupts the notion that trans people can only have one transformation. Like the landscape studied over eons, change does not have an expiration date for these trans characters, who...
Shary Flenniken with Sarah Glidden
05/13/2021 - 6:00PM
Something of a landmark publication is celebrated here today as once-up-a-time Seattle cartoonist Shary Flenniken (now based in Brooklyn), will be joined in conversation by cartoonist author Sarah Glidden, on the occasion of the release of Trots and Bonnie (New York Review of Books Comics). This book brings together, so far as we know, the first appearance in book form of Trots and Bonnie, who appeared back in the day in the pages of National Lampoon, where Shary Flenniken was an editor forty...
Claudia Castro Luna, Honorée Fannone Jeffers, Sasha LaPointe
05/14/2021 - 6:00PM
The book response to the racial justice protests of 2020 are taking many forms and will, some of them structural within the book world, some in the books being published. One eloquent, very direct response is a new anthology, There's A Revolution Outside, My Love: Letters from a Crisis (Vintage), edited by recent U.S. Poet Laureate Tracy K. Smith and poet/editor John Freeman. Over twenty writers and poets, some renowned, some for whom this will be the first larger exposure, from across the...
Russell Banks with Jennifer Haigh
05/14/2021 - 7:00PM
In his new novel, Foregone (HarperCollins), which is structured around a character's secret memories, Russell Banks—the author of Affliction and The Sweet Hereafter, which were both adapted into critically acclaimed films—challenges assumptions about a lost chapter in American history and questions the nature of recollection itself. For his Word Works lecture, Banks will discuss how character is defined in Foregone through memories, confabulations, fictions, and dreams. Joining Russell Banks in...
05/15/2021 - 2:00PM
Poet/songwriter/performer Ishle Yi Park, whose multiple-award-winning debut book of poetry, The Temperature of This Water, appeared over fifteen years ago, makes this welcome return to book form with her brilliant book-length epic poem, Angel & Hannah: A Novel in Verse (One World). Not that she - with a few musical CDs and touring stints with Def Poetry Jam and more - hasn't been seen or heard from. Presently based in Hawai'i, Ishle Yi Park was the first woman poet laureate of Queens. Angel...
05/15/2021 - 11:00AM
Check out the schedule for events all month long! Full schedule
Book Candy
Subtitle Quiz
Pop quiz: "Can you guess the book based on its obscure subtitle?" Mental Floss challenged.
---
"On 'born' and 'borne': one vowel can mean a big difference," Merriam-Webster suggested.
---
The Library of Congress has launched a new blog: Guardians of Memory: Preserving the National Collection.
---
Atlas Obscura explored "how Soviet children's books became collectors' items in India."
---
"Someone please put these classic science fiction novel stamps on my wall," Mashable pleaded.

Great Reads
Rediscover: All Things Cease to Appear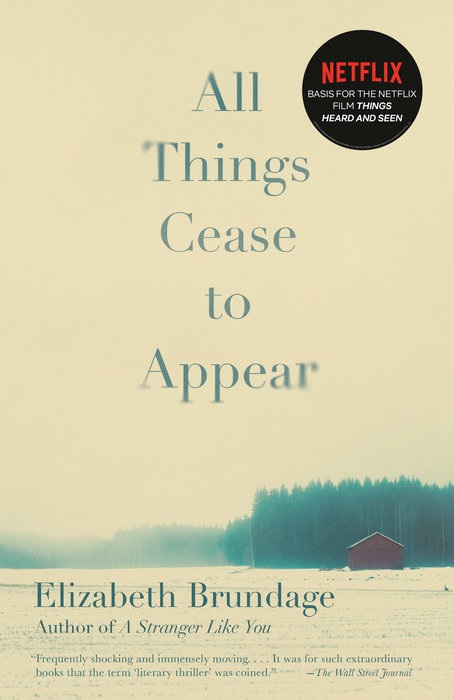 Things Heard & Seen, a thriller film based on the novel All Things Cease to Appear by Elizabeth Brundage, premieres on Netflix this Thursday, April 29. Amanda Seyfried and James Norton star as the Clares, a couple who move to Chosen, N.Y., in the Hudson Valley with their young daughter. Brundage's novel, first published in 2016, opens with George Clare seeking help from a neighbor after supposedly discovering Catherine dead from an ax wound. All Things Cease to Appear shifts back in time from there, following the Clares' attempts to milk new lives out of a defunct dairy farm--the site of a double suicide that left the previous tenant's three children orphans. Things Heard & Seen is written and directed by Shari Springer Berman and Robert Pulcini, the duo behind American Splendor (2003). The film also stars Natalia Dyer, Rhea Seehorn and F. Murray Abraham.

Elizabeth Brundage is also the author of The Doctor's Wife, Somebody Else's Daughter and A Stranger Like You. Her next novel, The Vanishing Point, which follows two friendly photography students whose lives diverge with deadly results, comes out from Little, Brown on May 18. All Things Cease to Appear is available in paperback from Vintage ($17). --Tobias Mutter

The Writer's Life
Kaffe Fassett : A Life Lived in Color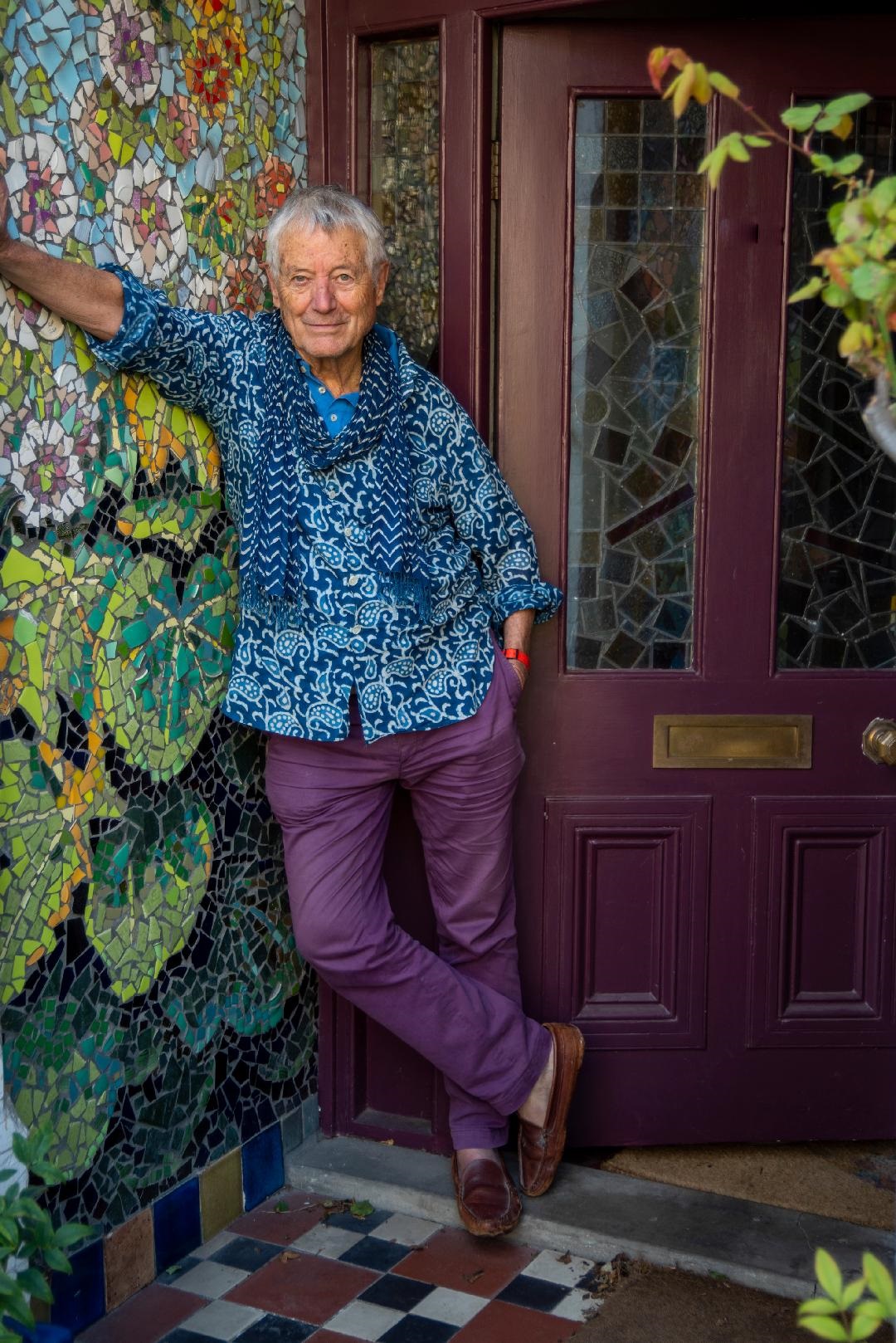 photo: Debbie Patterson
Kaffe Fassett (Kaffe Fassett's Bold Blooms; Dreaming in Color) is an American-born artist, textile designer and writer who has made London his home for several decades. His book Kaffe Fassett in the Studio: Behind the Scenes with a Master Colorist (Abrams, reviewed below) is a lavish tribute to his home studio and creative process. He recently chatted with Shelf Awareness, offering insights into his daily routines, advice on achieving goals and inspiration for those wishing to live an exuberant life, rich in vibrance and color.
Your house is absolutely exquisite--so alive with colors and patterns. What prompted you to write this book now and to invite readers into your home and studio space?
I get addicted to writing books. For example, when I learned how to make mosaics, I immediately said, oh my God, I must do a book on this! I looked around my home one day and thought that, since people always want to come and see where I live, this would be a nice way to show them around without taking the time to entertain them all with a tea. I also thought it was a good subject that would allow me to talk about the way that I create.
You are a multi-faceted artist. You paint, work in textiles, create mosaics, collaborate with fashion houses and teach workshops. What does a typical workday--if you even have one--look like for you?
That's the real question: Do I have a typical workday? I would say that a sort of typical day would be waking up and heading to my studio, where I would pour myself a cup of hot water to start the day. And then I just sit down and start creating. Breakfast comes about an hour later and then I go straight back to working right through the day. Pre-Covid, I would usually take a walk and pick up a newspaper with a nice crossword puzzle and head over to my coffee shop to have a chai, do my puzzle and watch the world go by. Then I watch mindless television for the rest of the evening.
You mention that you love working on crosswords and puzzles. Do you get the same feeling piecing together the different patterns on your quilts and textiles?
It's funny you ask that because I've been making these patchworks of knitting lately. For example, the cover image of the book is a patchwork that is about to come together. Someone came in and looked at all the pieces I had stuck up on the wall and said, "Oh, here's another puzzle you're working on." So, yes, it is very much like a puzzle. I also love working on jigsaw puzzles because they can teach you about the artist's process--you can see all the brush strokes and how the painting was formed.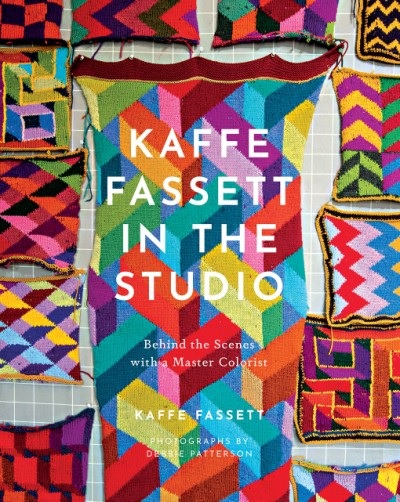 You try to instill the discipline of focus in your workshop students. As an artist who also runs a very prolific business, how do you find ways to focus on one task when there are probably hundreds of things competing for your attention?
Well, the first thing you should do is cultivate a really good team. My partner, Brandon, is just brilliant and shields me from the madness of the world's attention. So I'm able to go in, sit down and really concentrate on painting, designing fabric or whatever the task is at hand.
I always find that halfway through a creative process, since it is so unplanned, it can go into a very stale kind of area easily. And when that happens, I just switch. For example, if I'm working on a quilt but can't quite see how that quilt is meant to be solved, I'll just go and knit for a while. I do the same with everything I am working on, even a crossword puzzle. If you can't solve it, you put it away and the next day, you take it out and have a breakthrough.
I don't mind switching and changing, doing different things. However, my mother did drill into me that you must finish one thing at a time, so I think that it is very important to stick to things that are difficult and look like they're going on the rocks. Go ahead and finish it. Even if it is a disaster at the end, you have the satisfaction of actually following it through. And, very often, it goes from disaster to something absolutely brilliant, or at least very passable.
What advice would you give to people who are inspired by your book but are a little nervous about using prints and bold color.
That is a very, very discreet way of putting it. They are "a little nervous"--they are terrified! I would tell them that I know that color does frighten people, but it is probably more fabulous and interesting than they think, so don't be afraid!
A lot of my inspiration comes from the circus or the really cheap end of town, where everything is kind of gaudy and shrieking. I love all that and love to get that into my work. However, I also like to refine it so that it does not appear to be discordant. At the end of the day, I want my color combinations to uplift people, inspire them, and be harmonious. That is important.
Your bookshelves are enchanting! You state that, over the past few years, you have been drawn to visual books, in which the author conjures up colors and physicality of space. What are some examples of visual books that you have particularly enjoyed?
Well, I would say, right off the bat, the one that comes to mind is Anne Rice's Interview with a Vampire series. How I love those! Oh my God, those velvet outfits! I started reading it in Venice, in St. Mark's cathedral, and felt that I was in the midst of it all. I just love reading somebody's story and how the author describes what they wore when they went to their first date or walked into a room to make a statement.
You've shared so much of your daily life within this book. How do you hope this will inspire your readers?
Well, first of all, I hope that people realize that they really could live in a chaotic mess! My house might be colorful, but it is chaotic and no one should be afraid of that. There was a wonderful English writer by the name of Quentin Crisp. He lived in a flat all by himself and would say [paraphrased], "I've never done housework. After four years, the dust doesn't get any worse." I loved that and thought, oh, there's hope for me!
In my talks, I often say that I know that I am not the best artist in the world. I am not the most refined; I haven't got the education; I didn't stick it out in school. However, I know that I'm better than a lot of people and I'm more courageous, with the tenacity to follow through even when something is going badly. I think that those qualities give you a depth of life. And that's what I hope will inspire the readers of this book.
Is there a particular craft that you haven't yet explored but want to try?
I've done mosaics, and I've done pretty big ones, but I would love to do tile panels--really big tile panels! I've done some smaller pieces, but it would be fun to do a really colorful, tiled, great, huge building in the middle of the city. That would be amazing. I hope there's an architect out there reading this! --Grace Rajendran, freelance reviewer and literary events producer

Book Reviews
Fiction

Knopf, $24, hardcover, 176p., 9780593318317
Erewhon, $26.95, hardcover, 416p., 9781645660163
Mystery & Thriller
Scribner, $27, hardcover, 320p., 9781982136352
Viking, $26, hardcover, 288p., 9780735224995
Minotaur Books, $26.99, hardcover, 288p., 9781250210906
Science Fiction & Fantasy

Harper Voyager, $27.99, hardcover, 336p., 9780062936035
Business & Economics
Princeton University Press, $24.95, hardcover, 256p., 9780691204451
Parenting & Family
Holt, $25.99, hardcover, 208p., 9781250787866
Humor
Morrow, $26.99, hardcover, 272p., 9780063076198
Art & Photography
Abrams, $40, hardcover, 224p., 9781419746260
Children's & Young Adult

Chronicle Books, $16.99, hardcover, 44p., ages 3-5, 9781452138190
Delacorte Press, $17.99, hardcover, 272p., ages 12-up, 9780593176009
--- SPECIAL ADVERTORIAL OFFERINGS ---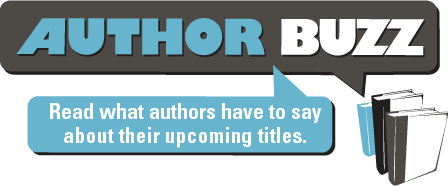 Dear Reader,

I like to have my characters meet under... let's say some anxiety inducing circumstances. Like during a plane hijacking, or when passing out during a skydiving expedition, or while being stuck in an elevator. And in Securing Jane, when a bomb is delivered to a military base.

There's something about falling in love, nail biting drama, and heart pounding action that I just love. But one thing is certain…there is always an HEA at the end of every book I write.

Susan Stoker
https://www.1001darknights.com/authors/collection-eight/susan-stoker-securing-jane
https://www.stokeraces.com

Please write to 1001DarkNights@gmail.com to enter to win one of five copies.






Publisher:
1001 Dark Nights Press

Pub Date:
February 9, 2021

ISBN:
9781951812324

List Price:
$2.99

Dear Reader,

Prepare to be transported! Bestselling author Lisa See called The Color of Air by Gail Tsukiyama, "a rich historical novel that illustrates why connection is more important and more vital than ever." Named one of Parade's Best Books to Read This Summer and set against the backdrop of Hawai'i's sugar plantations, this story is about a Japanese-American family learning to accept the past and step forward into the future.

We're giving away FIVE copies of this amazing book!
Enter the giveaway here: https://forms.gle/VgovXYdCFExbZYXN6
http://www.gailtsukiyama.com




Publisher:
HarperVia

Pub Date:
May 4, 2021

ISBN:
9780062976208

List Price:
$16.99

Dear Reader,

I'm giving away five hardcover signed copies of Cassandra Files: Genesis. This is a quirky tale full of humor and suspense that doesn't fit easily in any genre.

As one reviewer put it: "The author does a fabulous job of bringing all the suspenseful elements together to make for a great time. This is a pleasure to read: fast-paced, well-written, and surprising."

Write to me at AuthorRodPennington@gmail.com and I'll add you to the mix when I randomly select the five winners.

Rod Pennington
http://rodpennington.net




Publisher:
Integration Press

Pub Date:
May 7, 2021

ISBN:
9781572420441

List Price:
$14.95*

*Individual store prices may vary.
---