Brazen and the Beast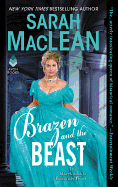 Prolific historical romance author Sarah MacLean returns to 1837 Covent Garden and the London docks in Brazen and the Beast, the second book in the Bareknuckle Bastards series. When 29-year-old Lady Henrietta Sedley--Hattie to her friends--finds a bound, bruised, extremely handsome man in her carriage, she tosses him out, but not before kissing him. What she doesn't know is that she's just met--and impressed--the notorious Beast of Covent Garden.
The Beast, Saviour Whittington, believes Hattie knows the identity of the man who attacked him and stole his cargo of imported contraband. She does indeed know, but refuses to tell Whit because the man is her younger brother, who's in over his head with a business deal gone bad. They're at an impasse; Whit can't afford to let Hattie win, since the safety of his world in Covent Garden and on the docks is at risk. Unfortunately, Hattie has the same concerns for her father's beloved shipping company. They make a devil's bargain to join forces and are quickly caught up in danger, death threats and overwhelming attraction. The lady and the bastard shouldn't have anything in common, but they complement each other in ways neither expected. If they can stay alive, can they also find their way to a future together?
Brazen and the Beast is filled with lush sensuality, charming characters, witty dialogue and heart-stopping action--a tale that is certain to delight romance readers. --Lois Faye Dyer, writer and reviewer