Finding Zsa Zsa: The Gabors Behind the Legend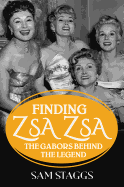 In his rollicking and gossip-filled biography of the Gabors (sisters Zsa Zsa, Eva, Magda and mother Jolie), entertainment biographer Staggs (All About "All About Eve") immediately dispels the cliché that they were famous only for being famous. "They worked at their careers, every hour and every day for close to a century," he writes. "Under the frills they were strong, courageous women ahead of their time." They also approached romance and matrimony with a fervor. Zsa Zsa married nine times (her eighth lasted just one day), Magda six and bisexual Eva five times.
As in life, the flamboyant, witty and bipolar Zsa Zsa continuously steals the spotlight in this biography with nonstop marriages, affairs and feuds. Without a good maternal role model (Stagg writes that Jolie "blended the talents of prison matron with mother love"), unsurprisingly, Zsa Zsa had an estranged relationship with her daughter, Francesca (who joked, "My mother and I get along great now that we're the same age"). Zsa Zsa's final marriage (to Prince Frederic von Anhalt) lasted two decades, although her daughter claimed the marriage was unconsummated. According to Stagg, her final years "resembled a Danielle Steel novel or a bad TV drama," with Anhalt isolating her from friends and family for his financial gain.
Staggs creates an engaging and fascinating family saga filled with fresh insights from newly conducted interviews. He also corrects lore spread through fanciful memoirs written by all four Gabors. This is a big, irresistible beach read, perfect for fans of The Real Housewives and Keeping Up with the Kardashians. --Kevin Howell, independent reviewer and marketing consultant