For Black Girls Like Me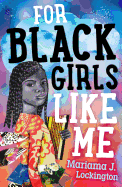 Mariama J. Lockington's debut, For Black Girls Like Me, is composed of brief chapters and poems that highlight the growing pains 11-year-old Keda experiences because of a big family move.
Born in Atlanta, Ga., African American Keda was adopted at six months by two white, classical musicians from Baltimore. Now, Papa has become principal cellist of the New Mexico Symphony and the whole family has to move across the country. Keda must leave behind best friend Lena--"the only other girl I know who is like me. An adopted mismatched girl"--and start at a new school in the middle of the year. Constant micro and macro aggressions from her sister, mother, classmates and others leave Keda feeling alienated and alone. The transition also exposes weaknesses in Keda's family. Mama's erratic behavior combined with the growing distance between Keda and her 14-year-old sister, Eve, are catalysts for combustion when a racially charged incident occurs at Keda's new school.
Intentional, candid scenes are beautifully paired with considerable internal reflection. Keda longs for "a mother who sees" her and understands the ins and outs of her complicated placement in the world. Poignant chapters explore Keda's frustration with her mother's inability to gently, lovingly groom Keda's "difficult" hair and depict her hoping her family will show more consideration to her nuanced position as a black girl in their white family. Lockington's focused imagery and impressively balanced rhythm between prose and poetry share the perspective of a black girl trying to find a place in her community and in her family. --Breanna J. McDaniel, freelance reviewer