The Best of Manhunt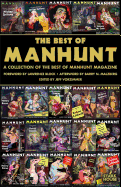 "Maybe some time in the pokey'll teach these young punks some respect for decent citizens."
Does that sound like a parody of hard-boiled crime-fiction dialogue? Actually, that line, from "Movie Night" by Robert Turner, was written six decades ago and published in the crime-fiction magazine Manhunt (1952-1967). For The Best of Manhunt, editor Jeff Vorzimmer has pulled together 39 gripping and pitiless tales in which the bad guys (and dolls) easily outnumber the good. And don't expect the good ones to win.
In Helen Nielsen's "A Piece of Ground," a country boy working in the city to save up for a house for his family begins what he thinks will be a consequence-free extramarital affair. In James E. Cronin's "The Man Who Found the Money," a teacher who gives the police the $92,000 he finds while enjoying a Las Vegas vacation is accused of skimming some by the bigwig who lost the dough. Like its pulpy newsstand neighbors, Manhunt was a rebuke to the quaint English-country-manor school of mystery writing. In his elucidating introduction, Vorzimmer notes that in their day, the tales of Manhunt "captured the noir of Cold War angst like no other fiction magazine of its time."
There are some household names on The Best of Manhunt's table of contents--Nelson Algren, Mickey Spillane--but most readers will be unfamiliar with the majority of its contributors. Forget some time in the pokey: maybe some time with this book'll teach young readers some respect for decent genre writers. --Nell Beram, author and freelance writer