The Escape Room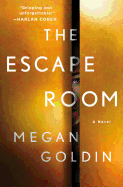 The Escape Room's fictional Stanhope and Sons is a typical Wall Street investment banking firm: the hours are punishing, the pay is astronomical and loyalty is the law. As Sylvie, one of Stanhope's disillusioned highflyers, notes at one point, "I always thought the only way out of this team was in a box."
Or maybe in an elevator. As Megan Goldin's novel begins, Sylvie and three other Stanhope higher-ups are in the lobby of an unfamiliar building in the South Bronx, where each has been invited by HR to attend an unscheduled Friday-night meeting. Among the four invitees is their boss, Vincent, who has also received a text telling him to bring everyone to the 80th floor for some sort of team-building activity.
As soon as the four bankers enter the elevator, the doors shut and the car goes black before it starts to climb. When it stops, a monitor on the wall displays a message: "Welcome to the escape room. Your goal is simple. Get out alive."
In most of The Escape Room's odd-numbered chapters, a roving point of view reports the bankers' thoughts as they attempt to solve a half-dozen puzzles presented to them. Australian novelist Goldin's American debut is a shrewd, brilliantly structured thriller doubling as a takedown of corporate culture. While the four elevator captives initially appear to be types, especially philanderer Sam with his shopaholic wife, Goldin lavishes time on their stories, ultimately making them, if not entirely sympathetic, more than a quartet of Gordon Gekkos. --Nell Beram, author and freelance writer