The Lager Queen of Minnesota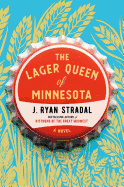 Who is the Lager Queen of Minnesota? As J. Ryan Stradal's novel (another sensuous delight, following Kitchens of the Great Midwest) opens, Helen Calder seems the likely title-holder, since she "had her first beer when she was 15 years old, behind a shed with the Serrazin boys." That afternoon in 1959, her sister Edith, 20, watched from behind the screen door. "Her idea of fun was putting frosting on a bran muffin," Helen thought. The pragmatic sister accepts her adventurous sibling through the years--until Helen convinces their dad to will the farm to her and nothing to Edith. After all, Edith has her truck-driver husband, and Helen has a dream: she and her husband, heir to the declining Blotz beer company, would open a brewery, capturing the Minnesota beer market with Helen's own lager recipe.
Meanwhile, Edith's pies, created for her job at a New Stockholm nursing home, gain fame. The family gets by, and stoic Edith "didn't ever see the point of bellyaching about the things she couldn't change." But when her husband's health fails and Edith gets a job in a bakery, her world expands.
Stradal's storytelling spans the sisters' lives from 1959 to 2018, but not chronologically. The novel follows Helen and Edith, and eventually Edith's granddaughter Diana, who enters the story as a teen. Title chapters are dollar figures, from $5 to $1,020,000, amounts critical in characters' lives. The sisters' rift lasts decades, and the beer and pie passions evolve, with Stradal sharing a deep understanding of the brewing and business of craft beers. This satisfying, decades-long tale celebrates love, determination, forgiveness and a thirst for beer--maybe even Rhubarb Pie-in-a-Bottle Ale. --Cheryl Krocker McKeon, manager, Book Passage, San Francisco