Deadly Aim: The Civil War Story of Michigan's Anishinaabe Sharpshooters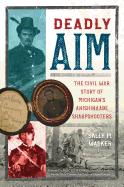 Sally M. Walker (Winnie), winner of the Sibert Informational Book Medal for Secrets of a Civil War Submarine, tells another arresting, true tale from the U.S. Civil War in Deadly Aim.
Though "Natives were not U.S. citizens at the onset of the Civil War," it is "estimated that over twenty thousand Native men fought... for both the North and the South." Deadly Aim tells the story of the Odawa, Ojibwe and Potawatomi men (as a group, the Anishinaabek) who enlisted in the First Michigan Sharpshooters Company K, the "only company in the Union army east of the Mississippi River whose enlisted men were solely American Indians." Beginning before the Civil War, Walker brings readers through the detestable Indian Removal Act of 1830, the 1838 Potawatomi Trail of Death and the 1855 Treaty of Detroit, which seemingly ended "the threat of forced removal" but instead spurred a massive grab of Anishinaabek land. The first few chapters build suspense as they introduce the men of Company K; once they reach the front lines, Walker's crisp, compelling account highlights the men's humanity and heroism in the face of brutality, terror and ceaseless, aggressive racism.
Walker patched together the many stories of bravery found in Deadly Aim by using photographs, pension files, military service records, treaty articles, personal letters, first-person accounts from descendants of the Anishinaabe sharpshooters and more (as shown in an author's note, several appendices, a glossary, a bibliography, source notes and an index). Deadly Aim highlights some of the many battles Indigenous peoples have been fighting since colonizers first came to their land, and educates on a specific time in history while also hopefully opens eyes to the current moment. --Siân Gaetano, children's and YA editor, Shelf Awareness