How to Hack a Heartbreak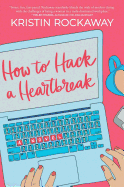 In How to Hack a Heartbreak, Kristin Rockaway weaves a story that's both romance and coming-of-age, combining her years of experience as a corporate software engineer with modern dating and social media technology. It's told entirely from the point of view of Melanie, and Rockaway surrounds her with a diverse group of friends who are working and dating in present-day New York City.
Melanie is stuck in an entry-level IT job, enduring verbal abuse from men who work at the start-up incubator where she's employed. Inspired by harassment at work and a dating app called Fluttr, she launches JerkAlert, a site for women to notify others about men who mistreat them on the app. What she doesn't expect, however, is how JerkAlert and her distrust of dating, men and the concept of faithfulness will affect her fledgling relationship with a co-worker: "It was funny: modern technology could forge a connection between two people on opposite ends of the earth, but it could just as easily drive a wedge between two people standing side by side in the same room."
As Melanie finds ways to stand up for herself and for other women, she learns that nothing is simple and, over and over, that "the internet is truly a terrible place." How to Hack a Heartbreak is a story about love in a time of technology--the good, the bad and the giant gray area in between. --Suzanne Krohn, editor, Love in Panels