That's What Frenemies Are For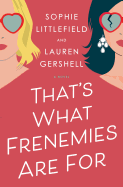 In That's What Frenemies Are For, a Manhattan socialite undertakes her own Pygmalion project: trying to turn an obscure fitness instructor into a social media sensation. Julia Summers was coasting through her rarefied life: happily married, with a fancy Manhattan apartment and a daily housekeeper/nanny to help her take care of her two children. But when a plumbing catastrophe means that Julia and the children can't spend the summer in the Hamptons as usual, she's worried. Her kids attend the best private school in the city, and in her circle of gossipy, back-stabbing moms, she knows that rumors about their financial stability will start if they stay in the city.
Then a new gym, Flame, catches Julia's eye. She heads into Flame to take a spin class with an awkward young instructor named Tatum. Julia sees Tatum's potential, and decides to make Tatum her summer project. Julia works hard all summer--transforming her own body and spending thousands of dollars to turn Tatum into a sleek, confidant phenomenon. But then Tatum takes on a momentum of her own and Julia starts to worry that she's created a monster.
Fans of Lauren Weisberger will love this first novel from co-authors Sophie Littlefield (A Bad Day for Sorry; The Missing Place) and Lauren Gershell. It's witty and wicked, and will leave the reader both appalled and impressed by Julia's boldness. Perfectly capturing the catty world of upper-class mothers in New York City, That's What Frenemies Are For makes for fine summer reading. --Jessica Howard, bookseller at Bookmans, Tucson, Ariz.