Amazing Racers: The Story of America's Greatest Running Team and Its Revolutionary Coach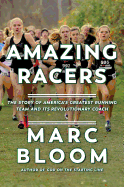 Marc Bloom (Run with the Champions) was as astounded as anyone when the boys' cross-country team from Fayetteville-Manlius High School, in upstate Manlius, N.Y., demolished the competition, including the far-and-away favorites, at a major regional race in 2004. Bloom followed F-M for more than a decade as it continued to dominate the sport. Like coaches, runners and fans everywhere, Bloom wondered: What are they doing up there in Manlius?
A dogged marathoner and cross-country coach, F-M coach Bill Aris studied the methods of New Zealand coach Arthur Lydiard, as well as philosophies from the ancient Greeks and classic rock-and-roll. But it was iconoclastic Australian coach Percy Cerutty who gave Aris his guiding philosophy: a lifestyle Cerutty dubbed Stotan, from a blending of stoic and Spartan. Stotan training is the surprisingly straightforward key to F-M's astonishing success: clean eating, good sleep, hard work; an emphasis on teamwork, humility, harmony with nature and mind-body connection. F-M's prodigies are "regular" kids, their accomplishments born not of technology or special talent but hard training, inspired by and devoted to their coach.
Amazing Racers is an inspiring illumination of a sensational team. Bloom's consistent and sincerely awestruck tone drives home just how special this story is, celebrating both the dedicated young athletes and their leader. While readers looking for the secret to victory may be disappointed--the prescription is, basically, just hard work--there is much to inspire everyone from the armchair racer to the elite athlete in this heartfelt biography of running royalty. --Julia Kastner, librarian and blogger at pagesofjulia