Dottir: My Journey to Becoming a Two-Time CrossFit Games Champion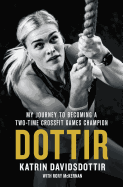 CrossFit combines elements of all sport disciplines with tests borrowed from Navy SEAL training, creating workouts performed by the "world's largest fitness community." The CrossFit Games are the Super Bowl of that community, crowning one man and one woman the "Fittest on Earth." Katrin Davidsdottir has won twice.
Iceland is tops in the world for gender equality and celebrating strong women, despite its patronymic custom (a father's first name prefixes his children's surnames). An athletic competition that values female participation and prizes Viking traits of power and fortitude seems perfectly crafted for Icelandic women, borne out by their dominance since the Games began in 2007. "Thorisdottir, Sigmundsdóttir, and Davidsdottir. One country. Three hundred and thirty thousand inhabitants. Ten podiums. Four Championships. Two silver medals. Four bronze. All Dottirs."
A blend of personal, familial memoir and training chronicle, Dottir follows Davidsdottir's "out of the womb hypercompetitive" path to the champion's podium and her struggle to keep her title in an increasingly challenging contest that airs on ESPN, recently boasting more participants than the population of Iceland.
Rife with CrossFit terminology, Dottir remains inclusive, conveying messages with mass appeal. Davidsdottir trains under the valuable principle "win or learn," freeing her from the mental stigma of failure. Embracing mistakes while pushing her limits facilitates mental toughness when it counts. Davidsdottir also addresses the pressures of society and media, particularly meaningful to youth and girls. Reading Dottir is no guarantee of a gold medal, but its empowering themes reach beyond athletics to everyday life. --Lauren O'Brien of Malcolm Avenue Review