Lost You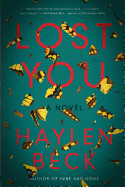 Married couple Libby and Mason Reese spend money and suffer years of heartache trying to have a baby. When they finally succeed, Mason tells her, "I can't do this." He walks out on the marriage.
Three years later, Libby and son, Ethan, are vacationing at a resort. Ethan goes missing. Security is alerted. The police are called in. The authorities find him, but he's with a woman who looks just like Libby. The woman, Anna Lenihan, swears the child is hers. Both Libby and Anna have valid claims to Ethan, but neither of the women is a DNA match to him.
Lost You by Haylen Beck (pseudonym of Edgar Award-nominated author Stuart Neville) then takes us back in time to explore the events that led to this dramatic confrontation between two mothers who will do anything to get their child back.
Beck presents the stories of Libby and Anna without judgment, making them equally sympathetic and righteous in their thinking and actions. He shows that, although they aren't blood related, their lives have much more in common than their desperate desire for motherhood. Libby came from humble beginnings; the same goes for Anna. They even have similar problems with their mothers, and neither wants to put the child through what they endured.
Tight writing, suspense, action and multiple moral dilemmas keep this story moving and questioning what the right thing is for the child. --Paul Dinh-McCrillis, freelance reviewer