Sing a Song: How "Lift Every Voice and Sing" Inspired Generations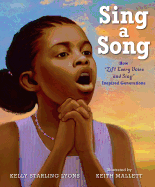 Kelly Starling Lyons, author of the Jada Jones chapter book series, tells the incredible story of "Lift Every Voice and Sing," the "Black National Anthem." Beginning with its creation in 1900 and finishing at the opening of the National Museum of African American History and Culture in Washington, D.C., in 2016, Sing a Song follows the journey of a hymn that has inspired millions of people.
Penned by James Weldon Johnson, the principal of a segregated, all-black school, and his brother, John Rosamond Johnson, "Lift Every Voice and Sing" was first performed by 500 of Johnson's students at an event celebrating Abraham Lincoln's birthday. These students sang the song for their families and friends, then, as they aged, for their spouses and children and grandchildren: "She sang it when she rocked her baby boy to sleep. It was a part of her she wanted to pass on." The song spread from generation to generation and, as African Americans migrated north, the song traveled geographically as well, sending the uplifting lyrics far and wide. "Sing a song full of the faith that/ the dark past has taught us.../ Sing a song full of the hope that/ the present has brought us."
Lyons's obvious passion for the song she first heard in church as a little girl is mirrored in Keith Mallett's (Sonny's Bridge) "freehand"-drawn and digitally painted illustrations. A distinctive use of light suggests hope and a bright future, while the interactions between his realistically rendered subjects emphasize a strong and supportive community of people. Mallett's art beautifully complements Lyons's sincere, musical text, producing a reverent tribute to this "symbol of faith, brilliance, resistance, and resilience." --Jen Forbus, freelancer