Summerlings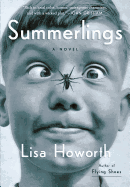 Lisa Howorth's second novel is narrated by John, who spends the book's length looking back at the summer of 1959. He was eight years old and, thrillingly, a spider infestation overtook his neighborhood in Chevy Chase, Md. One adult-promulgated theory was that refugees and immigrants had brought in the spiders.
Because his divorced parents were unstable sorts, John lived with his maternal grandparents, flanked by families with a variety of backgrounds. Also on the street was John's best friend, Ivan Goncharoff, whose father and mysterious, alluring aunt emigrated from Ukraine as children "to get away from Stalin," John explains, "but even so, the Soviet connection didn't endear [them] to my grandparents."
In such a climate, it's perhaps unsurprising that John and Ivan's Jewish friend, Max Friedmann, whose parents fled Austria after the Anschluss, is pointedly not invited to swim in one Connors Lane family's pool. This doesn't sit right with John and Ivan. The boys hatch a plan to "make the neighbors nicer."
In Howorth's fine first novel, Flying Shoes, the protagonist, recalling the three-decades-earlier murder of her nine-year-old stepbrother, wonders, "When had the times turned on children?" True nostalgists might insist that Summerlings takes place long before such times, but the book entertainingly eviscerates the rose-colored notion of postwar tranquility. Despite its Howdy Doody, Brillo pad and Hostess cupcake references slathered on sunscreen-thick, Summerlings is really about a regrettably timely subject: the nation's enduringly mixed track record when it comes to loving thy neighbor. --Nell Beram, author and freelance writer