White Flights: Race, Fiction, and the American Imagination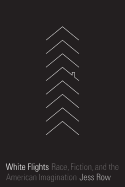 Jess Row (Your Face in Mine) takes on ambitious material with White Flights: Race, Fiction, and the American Imagination. He points out a societal need for reparative writing, examining the role of imagination in real lives, both in "straight" fiction (novels, stories, films, plays) and, in a larger sense, "in which our collective life is a series of overlapping fictions, fantasies, dream states." The first kind "reflects and sustains" the second, so that novels are never "just" novels, but rather serve to uphold institutions and ways of thinking that have consistently and systematically hurt nonwhite Americans.
In seven essays, this book argues that imagination is as much part of the problem as real-world actions and prejudice. Row undertakes close readings of Marilynne Robinson, Don DeLillo, David Foster Wallace, Cormac McCarthy, Annie Dillard, Richard Ford and more: these white writers may be among his own literary heroes, but they nonetheless come under scrutiny for the whiteness, or sheer emptiness, of the spaces they create. On the other hand, he examines James Baldwin, Toni Morrison, Chang-rae Lee, Colson Whitehead, Amiri Baraka and Ta-Nehisi Coates for the examples they offer of more inclusive fictional spaces.
This intelligent collection is often deeply engaged in philosophy and literary theory; it approaches an academic writing style. There is something for every reader, however, in the message that fiction not only reflects but acts upon real life, and that each of us is obliged to act for justice, in reading and writing as in life. --Julia Kastner, librarian and blogger at pagesofjulia