Alfred's Book of Monsters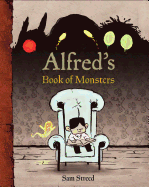 Alfred's favorite book, about the "monsters that lurk... in the shadows of his little town," begins "the Nixie soaks at the bottom of the stream, beneath ancient slime and pitch-black mud." Holed up in his study, Victorian-era Alfred reads about creatures like the Black Shuck (whose "one blood-red eye burns with an undying rage") until his incorrigible aunty makes him join her for tea. After learning about the Lantern Man, who carries the "light of one thousand souls," Alfred decides to invite the monsters to tea time, hoping to turn something charming into something terrible.
With nods to Tim Burton and Edward Gorey, Sam Streed cheekily juxtaposes the "delightful" with the "dreadful" in Alfred's Book of Monsters. A simple color palette of black and brown punctuated with pops of near-neon colors helps contrast the mundane scenes with the supernatural ones. In scenes with Aunty, cold blues predominate, while warmer oranges, reds and yellows take over scenes of the monsters and Alfred in his study.
The very best part of Alfred's Book of Monsters is the Book of Monsters itself. A bird's-eye view of the pages, with Alfred's hands peeking out from the bottom margin, lets readers experience Alfred's wonderment. Each spread is made to look as though the book is ancient and handcrafted--with tears in the pages and thick, inky black drawings and text. The highly detailed artwork features renderings of the creatures' anatomies (such as their skeletal systems), ratcheting up the gothic tone. This delectably macabre picture book debut is creepy and atmospheric but not so scary that little ones won't enjoy it, too. --Lana Barnes, freelance reviewer and proofreader