Consumed by Hate, Redeemed by Love: How a Violent Klansman Became a Champion of Racial Reconciliation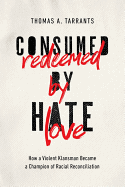 In the 1960s, Tom Tarrants, a product of the segregated South, began reading virulently racist and anti-Semitic literature, started associating with the Klan and ultimately attempted to bomb the home of a prominent Jewish leader in Meridian, Miss. Tarrants was shot four times by law enforcement but survived, and after several surgeries was tried and sentenced to 30 years at Parchman, the most notorious prison in Mississippi. Through Klan contacts, Tarrants orchestrated an escape, but was recaptured and put in solitary confinement for the next three years.
During those three years, he had nothing to do but read. At first, he continued with hateful literature, but slowly he broadened his horizons, and read everything from Plato to the Bible. This led him to convert to Christianity, and caused a drastic change in his personal life. His behavior altered so abruptly that prison guards and FBI agents alike spoke out on his behalf, eventually leading to his release after eight years in Parchman.
Tarrants went to college and seminary, became a pastor and then took a position at the C.S. Lewis Institute, training and teaching other pastors. For many years he has spoken out against racism within the church, promoting racial reconciliation and "seeking the common good and loving people across political divides." His life is an astonishing one, and Consumed by Hate, Redeemed by Love creates hope in this troubled era that other lives can be equally changed. Poignant yet to the point, Tarrants's story of redemption will appeal to both Christian and non-Christian readers. --Jessica Howard, bookseller at Bookmans, Tucson, Ariz.