Girl on the Block: A True Story of Coming of Age Behind the Counter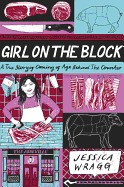 Jessica Wragg's Girl on the Block is part memoir, part meat industry education and criticism, and part butchery how-to. Wragg shares stories of her teenage years working at a butcher shop in Derbyshire, England, where she endured sexual harassment and knowledge-hoarding, then moves on to her years balancing university with weekends at the Ginger Pig, one of London's most famous butcher shops. With humor and unflinching self-awareness, Wragg details both her poor choices and her successes, including the time she lived in a bedbug-infested apartment and when she sold her first major piece of writing.
Wragg breaks up the personal narrative with passages detailing the state of the meat industry in the U.K. and worldwide. She discusses factory farms and commercial slaughterhouses, the differences between breeds of cattle and how we began to incorporate so much meat into our diets. The book doesn't shy away from the less savory aspects of meat production and consumption, nor does Wragg ignore the environmental and emotional ramifications of the process: "I have decided that as I continue to eat meat and to work in the industry, it's much better to educate myself and others, to refuse to turn a blind eye to the origin of the meat on my plate."
Girl on the Block is an accessible look into the complicated world of meat, and readers will keep it on the shelf for the lessons on butchering, meat selection and how to prepare the best steak of their lives. --Suzanne Krohn, editor, Love in Panels