Here There Are Monsters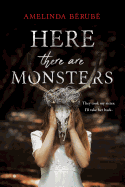 Deirdre, at 13, "refuses to wear anything but dresses, and... leaves her hair unwashed until it's hanging in lank strings." She's imaginative to the point of seclusion, living in made-up worlds of tarot card queens, "stick monsters and animal bones." Her parents think she's having "trouble adjusting," but older sister Skye knows better--Deirdre doesn't want to adjust, she wants only to live in her fantasies, where Skye is her knight. Now 16, Skye refuses to be Deirdre's champion any longer. She's spent years coming to her little sister's rescue because kids are mean and because Deirdre--often purposefully creepy--makes herself a target. The family has moved, and Skye is determined to start over, make friends, remove herself from Deirdre's games of queens and knights and stick golems. Then, Deirdre goes missing, and Skye becomes "that girl with the missing sister"; "Count on Deidre to ruin everything," Skye thinks, "spreading awkward silence like a plague."
Deirdre's disappearance is weird, though. Her bed was filled with leaves, pinecones and sticks and, though the police found her boots in the spread of forest and swamp behind the house, she is nowhere within a range that makes sense for barefoot travel. Skye begins noticing scrabbling noises around the house, sees visions of things moving along the edges of the woods, hears a tinkling bell that begs to be followed into the forest.... Is it possible that Deirdre's fantasies aren't made-up? That they're real and malevolent?
Amelinda Bérubé's novel is tight with tension and full of disquieting suspense as she builds a world in which the reader cannot find footing. Everything and everyone reeks of malice while nothing and no one can be trusted--perfect conditions for a compelling YA horror. --Siân Gaetano, children's and YA editor, Shelf Awareness