Life and Other Inconveniences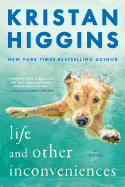 Kristan Higgins (If You Only Knew; On Second Thought) has created an engaging world in Life and Other Inconveniences. Emma London was raised by her patrician grandmother, the internationally famous designer Genevieve London. Emma's future seemed assured: an Ivy League education, followed by a position within Genevieve's company. But then, just after high school graduation, Emma got pregnant and Genevieve kicked her out.
For the last 17 years, Emma has scraped by, putting herself through school, becoming a therapist and raising her daughter, Riley. Suddenly, however, her simple life is upended when Genevieve calls Emma to tell her that she has a brain tumor.
Emma, still hurt, at first refuses to go to Connecticut, but Riley is facing a tough situation at school, and Emma decides a change of scenery would be good for them. So they return to the mansion where she grew up, and there all three women discover things they never knew about each other.
Touching, a little romantic and sometimes laugh-out-loud funny, Life and Other Inconveniences is a wonderful novel about the nature of grief and affection in a complicated family. Genevieve is mourning many things, which Emma never realized. Meanwhile, Emma comes to discover that Genevieve's influence wasn't always terrible and that having a great-grandmother is good for Riley. With alternating perspectives from across generations, Kristan Higgins portrays the bewilderment of those bereft by the loss of a loved one. Thoughtful, sweet and with a gentle undercurrent of humor, this is summer reading at its finest. --Jessica Howard, bookseller at Bookmans, Tucson, Ariz.