We Are All Good People Here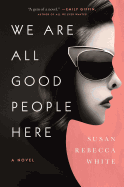 When Daniella and Eve become college roommates in Roanoke, Va., in 1962, their futures are unimaginable--two naïve, proper young ladies, molded by their culture yet carried along in the upheaval of the tumultuous '60s and '70s. In her fourth novel, Susan Rebecca White (A Place at the Table) reflects the angst of the times through characters acting with the conviction that "we are all good people here" as their friendship carries through 1992: "Part Two--Their Daughters."
The first year at Belmont College is marred by Daniella's not receiving a sorority bid, because she is half Jewish. In spite of her sterling silver tea set announcing her traditional roots, Eve is passionately righteous and leads a disastrously failed campaign for rights for the dorms' black maids. The shock of these twin injustices propels both girls from the bucolic campus to New York and Barnard, for visits to the Village, debates on communism and the Congress of Racial Equality, and relationships with two men who will influence their paths.
White's period details resurrect the emotions of the era. Daniella joins the Mississippi Freedom Riders and Eve joins a radical collective; Daniella becomes a lawyer and Eve goes underground. Years later their paths cross again, as Daniella rescues Eve from the dangers of life as a dropout. Soon, they are both mothers, and although they've changed, their friendship segues into one for their daughters. The challenges of the '80s in some ways mimic what the mothers experienced, and the novel's point of view briefly switches to Daniella's daughter, narrating and presenting perspective on the mothers' lives. Ending with a list of "what ifs," the novel is a reminder that people usually are trying to do their best. --Cheryl Krocker McKeon, manager, Book Passage, San Francisco