Kochland: The Secret History of Koch Industries and Corporate Power in America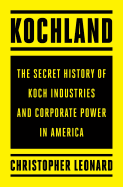 At a densely footnoted 700 pages, Christopher Leonard's Kochland is no lightweight read, yet its subject--Koch Industries--more than warrants that level of scrutiny. While Charles and David Koch have attracted notice in recent years for their political activities, their sprawling empire remained practically invisible to the public for decades. Leonard shows how Koch specialized in complicated industries necessary to modern American life, all built around the backbone of Koch Oil.
Kochland is about more than the Kochs, even though Charles Koch's management philosophy receives plenty of attention. Leonard breaks down the story of Koch Industries into flashpoints. One lengthy section involves the vicious battle over the Pine Bend oil refinery in Minnesota, where Koch eventually broke the back of a powerful union. Another portrays Charles Koch's successful campaign to defeat Obama's ambitious cap-and-trade bill, and the role of the Koch political wing in directing the aims of the emergent Tea Party. Leonard shows each as a dramatic story that sheds light on Koch Industries' participation in major trends in the American economy: weakening labor, funneling profits to the ultra-wealthy and ignoring the threat of climate change.
Leonard's greatest achievement is in writing an accessible book about an institution designed to be inaccessible. This is necessarily a book awash in technical details and dozens and dozens of characters, yet Leonard grounds it all in human drama--Bill Koch's efforts to wrest control of the Koch Empire from his brother Charles, for example, are worthy of the television series Succession. Kochland is an epic, in-depth work. --Hank Stephenson, bookseller, Flyleaf Books, Chapel Hill, N.C.