The Yellow House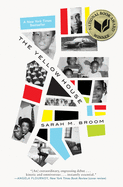 "How to resurrect a house with words?" That question, and task, drives The Yellow House, Sarah M. Broom's beautiful and unflinching debut memoir.
Broom's larger-than-life mother, Ivory Mae, purchased the titular yellow shotgun in 1961, anchoring her family, for better and for worse, to New Orleans East. Broom maps her family's story onto the house itself and the city around it, probing not just the stories she seeks but their holes, silence and absences. New Orleans East, after all, is absent from tourist maps of "the Big Easy," its residents among the most dispossessed by Hurricane Katrina.
Architect of her own history, Broom follows her lineage back a century, tracing the lines straight through the shotgun house. She conducts interviews, looks to old letters and scours the minutiae of recovery efforts, refusing to romanticize the city that so many others cloak in mythology. She revels in language and nuance, as she recounts her stint as a writer for New Orleans Mayor Ray Nagin, when she is "hired to 'creatively tell the story of the City's recovery after Hurricane Katrina' " at a time when recovery seems measurable in "spoonfuls."
Broom invites readers to reflect on power in its myriad forms: the power of institutions, the power of nature and, critically, the power of story. It's an enormous undertaking and Broom nails it, inviting readers to wonder what else we're not hearing, what other stories exist beyond the edges of the map. --Katie Weed, freelance writer and reviewer