And How Are You, Dr. Sacks?: A Biographical Memoir of Oliver Sacks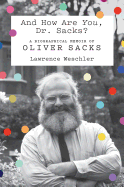 When journalist Lawrence Weschler first met the unconventional neurologist Oliver Sacks in June 1981, he hoped their encounter might produce enough material for a profile that would boost his fledgling career with the New Yorker. The piece never materialized, halted by Sacks because of his concern that it inevitably would reveal his homosexuality, but their relationship burgeoned into a deep friendship that ended only with Sacks's death in August 2015. And How Are You, Dr. Sacks?: A Biographical Memoir is culled from 15 volumes of notebooks compiled over four years in the early 1980s. It is Wechsler's fascinating account of their attachment and focuses on a period of time when he was "serving as a sort of Boswell to his Johnson, a beanpole Sancho to his capacious Quixote."
In that spirit, Weschler (Uncanny Valley: Adventures in the Narrative) serves up a potpourri of conversations, diary entries, interviews, letters and reportage to paint a vibrant portrait of his friend's fully engaged, at times frenetic, life. Though it inevitably covers some of the same ground as Sacks's own 2015 memoir, On the Move, this blend of journalistic objectivity and subjective engagement in Sacks's daily life enlarges and complements the neurologist's self-portrait.
As Lawrence Weschler concedes, with obvious regret, someday a person who "will have to be a lot younger than I am now" is going to produce a full-length biography of Oliver Sacks. In doing so, that writer will be in Weschler's debt for the wealth of valuable source material his book provides. --Harvey Freedenberg, freelance reviewer