Consent: A Memoir of Unwanted Attention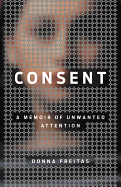 Donna Freitas has her Ph.D., lectures at universities across the United States about her research and has written several books. She is also a survivor of stalking by a trusted grad school professor and priest, which forms the center of Consent: A Memoir of Unwanted Attention.
Consent is, as its subtitle suggests, a memoir about Freitas's unsettling experiences and is not always an easy read. She documents with candor her own internal struggles, the many ways her stalker kept her suspended in a world of doubt, and her constant questioning about what she'd done to deserve this punishment. On top of that, she also explores the ways the system failed her--as a student, a woman, a Catholic and a professional--both during the stalking and her eventual reporting of it. As she does so, Freitas offers important commentary on consent and the large-scale changes required to counteract the far-reaching consequences of assault and unwanted attention.
"I haven't mastered this story yet," she writes. "The means to tell it with grace and confidence still eludes me." Consent is proof that this is not so. Freitas has mastered the telling of her story--despite repeated attempts by others to keep her from doing so--and has mastered it in such a way that its telling sheds light on a larger societal issue. --Kerry McHugh, blogger at Entomology of a Bookworm