Everybody's Doin' It: Sex, Music, and Dance in New York, 1840-1917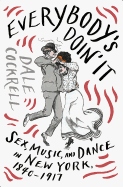 In Everybody's Doin' It: Sex, Music, and Dance in New York, 1840-1917, musicologist Dale Cockerell (Demons of Disorder) traces the connection between popular music and the disorderly world of New York City's brothels, bars, dance halls, concert saloons and "Raines Law hotels." He focuses on the period between the first blackface minstrel shows and the rise of jazz, a time when "dives" were literally located in below-sidewalk cellars. Cockerell demonstrates a symbiotic relationship between rowdy dancing inspired by equally rowdy music and the flourishing business of prostitution.
Because his subjects often lived below what Cockerell calls "the horizon of record," many of his sources are middle-class observers who wrote about the music and its audience with disdain. (Some of the most explicit accounts come from undercover investigators hired by various reform societies to provide evidence of immoral activities.) These accounts refer to the "alleged music" produced by musicians and singers with no formal training. They describe erotically charged "tough dancing," from the imported cancan to "animal dances" like the turkey trot and the bunny hug. They detail sexual solicitation in graphic detail, as well as undercover agents' sting operations.
Never letting the reader forget the inherent bias of his middle-class, largely white, sources, Cockerell evokes a kaleidoscope of characters and institutions without ever losing track of the poverty on which his subject rests. He raises complicated issues of class, gender and race, issues that would shape the development of American popular music in the coming decades. --Pamela Toler, blogging at History in the Margins