The Bells of Old Tokyo: Meditations on Time and a City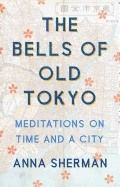 The Bells of Old Tokyo: Meditations on Time and a City is Anna Sherman's exploration of a city that is not originally her own, which perhaps makes her perspective all the more closely attentive, thoughtful and serious. Through Tokyo's Bells of Time, which rang out the hours for hundreds of years, Sherman examines many aspects of both city and time. Her prose is careful, contemplative, even solemn. The result is philosophy, travel writing, elegy and love letter.
"Tokyo is one vast timepiece," begins Sherman. "Time is counted out in incense sticks; in LEDs; and in atomic lattice clocks." Time is ignored, too, in this city where residents "have their eyes fixed on the future, and are impatient when a word is said of their past." Sherman never states the reasons for her preoccupation with time, clocks and Tokyo's past, but her book thrums with it. She views the first Bell of Time, at a former prison at Nihonbashi, and the smallest, in Akasaka; seeks the lost bell of Mejiro; meets the man who rings the bell at Ueno; and visits a widow surrounded by "an island of old clocks" in Nezu. She also consults with many sources, modern and ancient, and studies the Japanese language and its translations. This is a narrator deeply immersed and committed to her subject; Sherman's bibliography and notes are extensive for such a slim book.
The Bells of Old Tokyo is an elegant series of musings, a beautifully written evocation of a place and a philosophical inquiry into the nature of time itself. Sherman has given the world, and one city in particular, an astonishing gift. --Julia Kastner, librarian and blogger at pagesofjulia