The Last Good Guy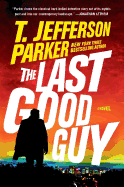 In T. Jefferson Parker's third Roland Ford mystery, the Southern California private investigator is hired by Penelope Rideout to find her teenaged sister, Daley. The more Ford discovers about the Rideouts' elusive past, the more dangerous the case becomes. Soon a dead body is involved, and Ford has received a nasty beating for his efforts. With the help of his resourceful tenants, the last good guy of the title tries to track down Daley while dealing with evangelical preachers, violent private security firms and his growing feelings for Penelope, even though he mistrusts her.
Bringing to mind Ross Macdonald's detective tragedies, this is a sun-kissed noir with a deep melancholy underneath. Ford, Penelope and the other characters are haunted by their tragedies and losses and hope to make up for them in a world that has little room for good deeds. Parker is, in the spirit of crime writers, cynical about the evil men do, yet Ford and his friends try to do the right thing even when it takes a physical and mental toll. The prose is the right balance of terse and purple, giving Ford's narration a sense of moral clarity: "...part of me wanted to stay with the woman that she had become. Help beat back her demons. Be there for her. I could do just that. I wanted to."
The Last Good Guy is a rewarding thriller with political savvy and a wounded, compelling hero in Roland Ford. Newcomers should have no trouble entering Ford's world, and fans of Parker (Full Measure) will absolutely not want to miss this new story of a decent man tangled in a dark and insidious plot. --C.M. Crockford, freelance reviewer.