The Silence Between Us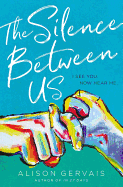 When Maya begins her senior year, she's not optimistic about attending a hearing school. The students and teachers don't speak her language so she's "the weird new girl with the interpreter following her," and she's fearful it will be tough to prove she has the smarts to get into the medical field. "Genuinely nice" Beau learns ASL to talk to her, but Maya thinks the two of them "belong... in two different solar systems," which makes her suspect the over-achiever sees her as "a good line for his resume."
Maya manages in class, but when her lab partner's spoken instruction doesn't catch her attention and a beaker overflows, Maya fears what could happen in the future when she's working in a hospital. Compounding her concerns, a communication gap with nurses during an emergency with her brother leaves Maya panicked: "I was comfortable being Deaf... now it felt like it was the one thing standing in the way." But when Maya's mom takes her to meet cochlear implant recipients who don't sign or consider themselves Deaf, and Beau gives her brochures about implants, Maya can't believe anyone would want her to be hearing.
Alison Gervais (In 27 Days), herself Hard of Hearing (HoH), portrays Maya as frustrated by setbacks yet exuberant in her pride as a member of the Deaf community. The everyday discrimination Maya faces doesn't weigh her down--"Discrimination? Welcome to my world." Gervais depicts signed dialogue in the "choppy English" characteristic of ASL, immersing the reader in Maya's life. The Silence Between Us is a boon to young adult literature, helping to remedy the shortage of Deaf protagonists with the spitfire Maya and her momentous self-confidence. --Samantha Zaboski, freelance editor and reviewer